Deck "Xanadu, the Death Bringer"
extended display
Deck "Xanadu, the Death Bringer"
Format: OCG - 48 Cards
created by kazeblack
Can I build this deck?
This is now the final and improved version of the "Metal Apocalypse deck", a Water/Darkness/Nature control deck which represents me as a duelist and my love to the Demonic Eye tribe, the Romanoff family.

That's XXXXX or better said "Xanadu's Xanatic Xtermination-Xtirpation Xperiment"


also called:

"Xanadu, the Death Bringer"

Well, like the name already says it has a lot to do with Destruction and Discarding, making the opponent nervous and let him start screaming when he starts to recognize that the amount of cards in his hand is going to be lower and lower and the same happens to his creatures on the field.

The main cards are well-known from the episodes, the deck is based on the combo of Romanoff the 1st, Lord of the Demonic Eye and Alexander the 3rd, Emperor of the Demonic Eye.

Romanoff the 1st is the most important card in the deck.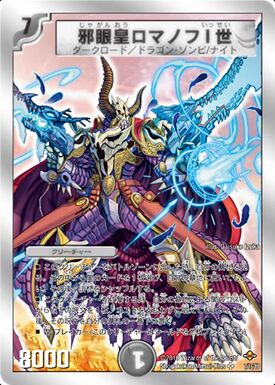 It is very useful in combination with the grave shoveling cards Emergency Typhoon, Bloody Cross and Primal Scream to get more cards into the graveyard, especially darkness spells which Romanoff can use by using its ability.

Alexander the 3rd let the spells stay in the grave, and it also can increase draw (Emergency Typhoon).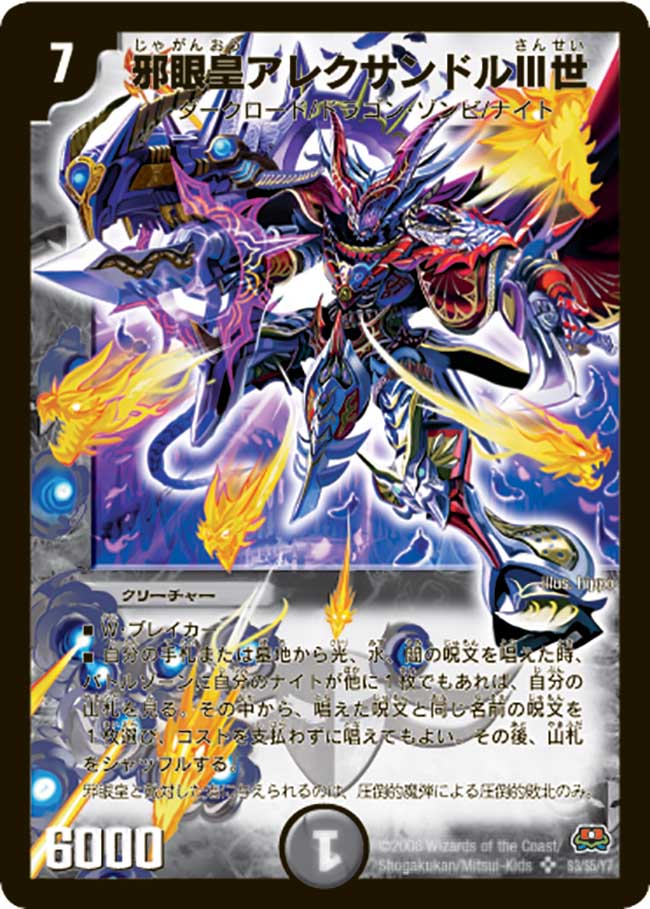 By casting spells from the grave with Romanoff the 1st, Alexander searches the deck for a spell with the same name and cast it for no cost. The spell cast by Romanoff to the bottom of the deck, and Alex casts a spell from deck which is put into the graveyard.
So this combo is a circle and causes many problems for the opponent if he is not able to get Romanoff or Alexander away.

Unfortunately, good creatures cost a lot of mana. So i need some ramp to summon them easier. Faerie Life and Jasmine, Mist Faerie not only charge mana, they're also food for the graveyard, that can be very important for the Annihilating Soul Recall of Dias Zeta, Temporal Supressor.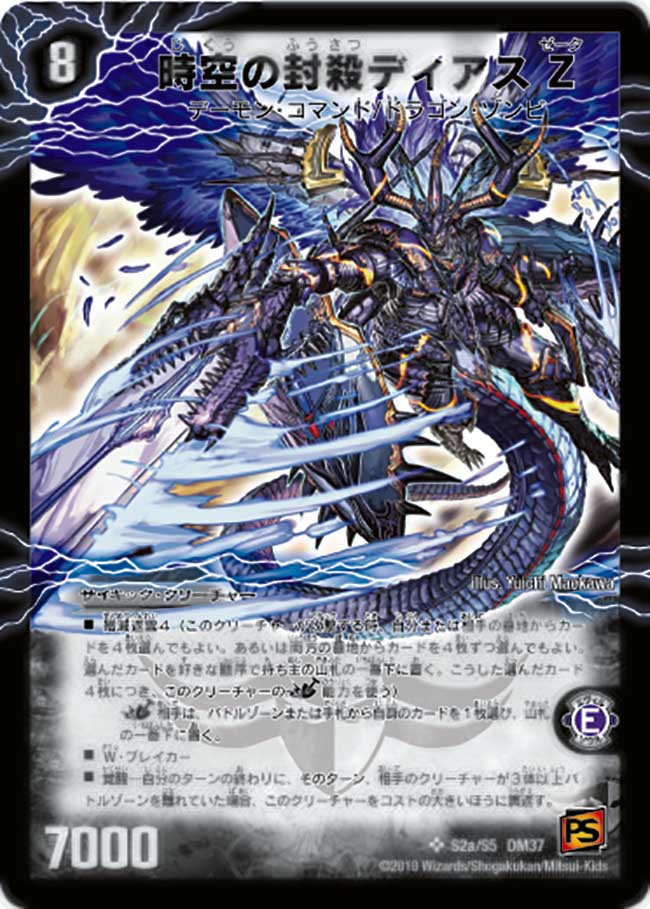 Dias also can Protect from a deck run out and can get to the battle zone easily by casting Hyperspatial Emperor - or Vice Hole from graveyard or one of sthee Hyperspatial spells went to the hand by castong Emergency Typhoon.

Of course protecting the own shields is also very important, especially in this deck because it has no Blockers except for the Psychic creatures. Vice Hole not only can discard nasty spells and summon the mighty Dias Z, it also in can build up Blockers, putting an awakened Julia Martina into the battle zone or two small Martini, Temporal Dancer, depending on what's better in the current situation. If Martini is already on the field Suva, Temporal Menace can be get into the battle zone this way, too. Vice Hole also can summon April on its awakened side, to get rid of the opponents hand cards, which makes it easier to awaken Black Ganveet, Temporal Soldier.
If the own battle zone is swarmed with Psychic Creatures, it's time for Storm Genji XX, the Super Temporal!!!

Not much to say about Rumble, Temporal Sage...With using Romanoff the 1st, he can be awakened as easy as your opponent can puke, haha.

By the way, discarding is a funny thing. Especially if the opponent plays with a lot of draw... Ghost Touch and particularly Hide & Seek are very annoying and go perfectly along with Black Ganveet, Temporal Soldier.

So let's come to the best thing: DESTRUCTION. Okay, to be honest the whole deck is destruction, isn't it? But most fun is it with Terror Pit of course.Emperor Hole could be a second option for that to summon a Psychic and additionally kill something.

To make everything even more lovely than it is already, Fly Lab, Crafty Demonic Tree reduces the cost of all these nice spells in this deck and when this little nasty evil creature dies the opponent looses another card in his hand.

Last but not laest, why not making zombies? I mean...Inferno Sign is perfectly made for that...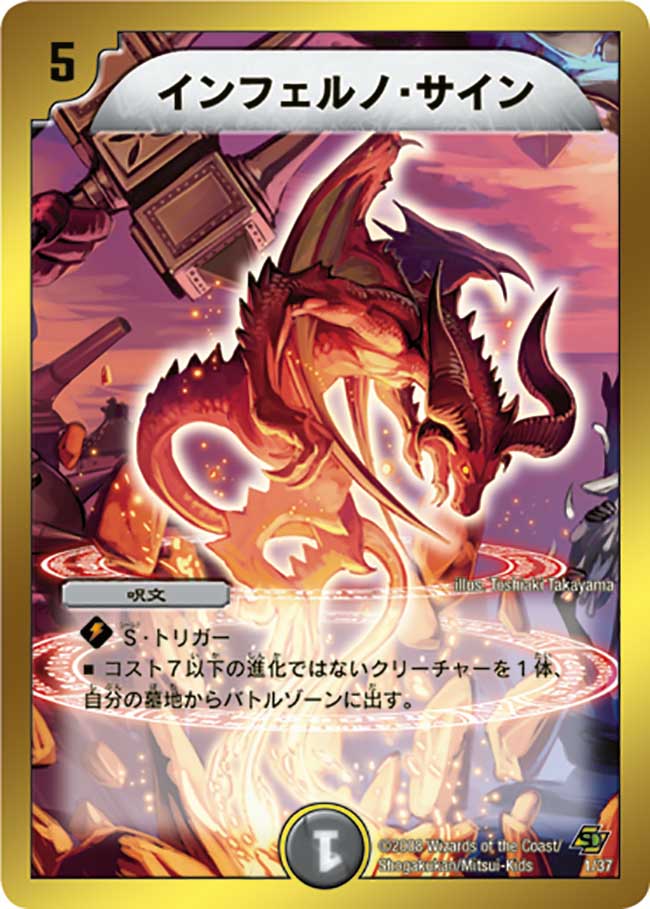 This card is the best way to get Romanoff or Alexander directly into the battle zone to start the whole thing again.Bad for the opponent. Hopefully he doesn't start to chew on his fingernails, but well, it makes it quite different to do not so.

If your opponent still has a chance to attack, maybe he will think about this action twice. The deck has exactly 20 Shield Triggers, so the chance to hit one and giving me an advantage this way is 50% ;-)

Don't wonder why this deck has so many spells...that's just me.I love spells. Spells, spells, spells..that's my live. Spells and Psychics. And Romanoffs, hahaha of COURSE Romanoffs. I love these creatures....
I feel I'm even a part of them. Demonic Eye...you will rule forever...

So, I think that's it.If you still have suggestions for my deck, don't be shy to comment. I want to make this deck as pefect as possible. And please vote of course!


Enjoy playing!

***REAL-LIFE DECK, JAPANESE FORMAT***
Section: Main Deck (40 cards)
Card
Set
Number
Type
Rarity
3
x
Alexander the 3rd, Emperor of the Demonic Eye
LoH
S3
Creature
Super Rare
2
x
Bloody Cross
DM-36
94
Spell
Common
4
x
Emergency Typhoon
DMC-44
35
Spell
Common
4
x
Faerie Life
DMC-57
39
Spell
Common
3
x
Fly Lab, Crafty Demonic Tree
PH
34
Creature
Uncommon
4
x
Ghost Touch
DMX-03
38
Spell
Common
3
x
Hide and Seek
BoGR
53
Spell
Uncommon
2
x
Hyperspatial Emperor Hole
DMC-63
4
Spell
Promotional
2
x
Hyperspatial Vice Hole
DM-37
29
Spell
Uncommon
1
x
Inferno Sign
DMC-44
2
Spell
Super Rare
2
x
Jasmine, Mist Faerie
DMR-01
109
Creature
Common
3
x
Primal Scream
DMC-58
2
Spell
Super Rare
3
x
Romanov the 1st, Lord of the Demonic Eye
P-Y9
P74-Y9
Creature
Promotional
4
x
Terror Pit
DMC-58
11
Spell
Rare
Section: Side Deck (8 cards)
Card
Set
Number
Type
Rarity
1
x
April, Temporal Gunprincess / Death April, the Awakened Requiem
DM-36
53
Psychic Creature
Uncommon
1
x
Black Ganveet, Temporal Soldier/Darkness Ganveet, the Assassin Awakened
DM-39
11
Psychic Creature
Rare
1
x
Dias Z, the Temporal Suppressor/Diabolos Z, Annihilation Awakened
DM-37
S2
Psychic Creature
Super Rare
2
x
Martini, Temporal Dancer/Julia Matina, the Awakened Diva
DM-37
24
Psychic Creature
Uncommon
1
x
Rumble, Temporal Sage / Rumble Lecter, Terror Awakened
DM-36
S5
Psychic Creature
Super Rare
1
x
Storm Genji Double Cross, the Super Temporal/Last Storm Double Cross, the Super Awakened
DM-39
S3
Psychic Creature
Super Rare
1
x
Suva, Temporal Menace / Psychic Suva, the Awakening God
DMC-63
1
Psychic Creature
Promotional
Deck Statistics
Distribution by Civilization
Darkness
29
60 %
Darkness/Nature
3
6 %
Fire
1
2 %
Nature
6
13 %
Water
4
8 %
Water//Light
2
4 %
Water/Darkness
3
6 %

---

Distribution by Cost
1
2
4 %
2
14
29 %
20/40
1
2 %
3
3
6 %
3/6
2
4 %
4
6
13 %
5
3
6 %
5/10
1
2 %
6
6
13 %
7
6
13 %
7/13
1
2 %
7/14
2
4 %
8/16
1
2 %

---

Distribution by Power
-
11
23 %
-
18
38 %
1000
2
4 %
1000/300
2
4 %
2000
3
6 %
24000/35
1
2 %
4000/150
1
2 %
5000 / 1
1
2 %
5000/800
1
2 %
5000/900
1
2 %
6000
3
6 %
7000/180
1
2 %
8000
3
6 %

---

Distribution by Race
-
29
60 %
Armored Dragon/Flame Command/Samurai
1
2 %
Dark Lord
1
2 %
Dark Lord/Zombie Dragon/Knight
6
13 %
Demon Command
2
4 %
Demon Command/Origin
1
2 %
Demon Command/Zombie Dragon//Demon Command
1
2 %
Snow Faerie
2
4 %
Splash Queen//Mecha Del Sol
2
4 %
Tree Folk/Hedrian
3
6 %

---

Distribution by Rarity
Common
16
33 %
Promo
3
6 %
Promotional
3
6 %
Rare
5
10 %
Super Rare
10
21 %
Uncommon
11
23 %

---

Distribution by Type
Creature
11
23 %
Psychic Creature
8
17 %
Spell
29
60 %

---
Rating
Current score for this Deck, based on 18 votes:
4.44
Discussion about this Deck

Add your comments
Author
Message
rks_blitzer


LV36





Member since
July 18, 2010

Subject: Posted: October 6, 2011 03:46 pm

---

You do not need Bloody Cross. There are much better graving options.

You should use Hyperspatial Romanoff Hole for Diabolos Zeta, Temporal Ruler (unstoppable finisher) and Hyperspatial Faerie Hole for Geo the Man, Earth Titan (excellent mana recovery).

Yeah, that means you can't use Hyperspatial Vice Hole, but it's an acceptable loss, IMO.

And although you may have 20 STs, only 4 of them (5, if you count Inferno Sign), are actually defensive. It's not really a great claim to say that attacking against this deck is dangerous.

Back to top
Modified on October 6, 2011 03:55 pm
waileukwu




Subject: Posted: October 6, 2011 06:13 pm

---

You change the name of the deck! A bit sad

Other wise, what rks said was right, though of course you are playing by German rules, which allows Vice Hole in the same deck as DDZ, though just can't summon DDZ by Vice, though Romanoff Hole is ironically un-castable by the likes of Romanoff 1st, which is a great bummer.

Back to top
rks_blitzer


LV36





Member since
July 18, 2010

Subject: Posted: October 6, 2011 06:21 pm

---




quote from waileukwu:

You change the name of the deck! A bit sad

Other wise, what rks said was right, though of course you are playing by German rules, which allows Vice Hole in the same deck as DDZ, though just can't summon DDZ by Vice, though Romanoff Hole is ironically un-castable by the likes of Romanoff 1st, which is a great bummer.



It says right in the deck description "JAPANESE FORMAT", not German format.

Back to top
Add your comments