Deck "Ankit, The Dragon Lord"
extended display
Deck "Ankit, The Dragon Lord"
Format: OCG - 40 Cards
created by ankit
Can I build this deck?
Well, I'm a fire user, specifically, Dragons. Fire is my most preferred civilization of all, followed by darkness. When it comes to creatures that represent me as a duelist, only one race comes to my mind. That race is the most explosive of them all, Dragon race. Yes, a single card doesn't represent me, not a single creature. This deck, isn't really in my comfort zone though, I prefer mono-fire dragons with no defense. Anyway, I do wanna experiment a bit, so there you go guys. Plz, vote and comment. Your comments are always helpful.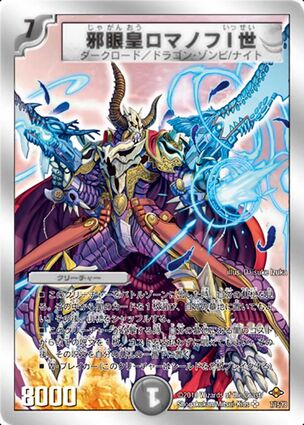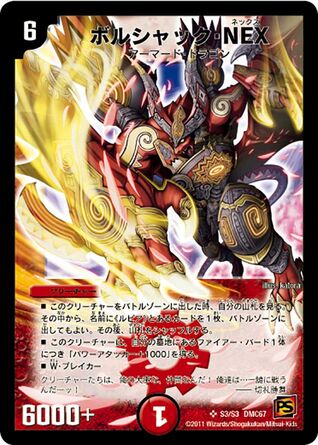 Deck Statistics
Distribution by Civilization
Darkness
22
55 %
Darkness/Fire
1
3 %
Fire
17
43 %

---

Distribution by Cost
1
2
5 %
2
2
5 %
3
6
15 %
4
2
5 %
5
7
18 %
6
12
30 %
7
9
23 %

---

Distribution by Power
-
7
18 %
-
8
20 %
1000
10
25 %
13000
1
3 %
5000
3
8 %
6000
4
10 %
6000+
4
10 %
8000
3
8 %

---

Distribution by Race
-
12
30 %
Armored Dragon
4
10 %
Armored Dragon/Samurai
3
8 %
Armored Dragon/Zombie Dragon/Knight
1
3 %
Dark Lord/Zombie Dragon/Knight
5
13 %
Fire Bird
8
20 %
Knight
3
8 %
Zombie Dragon
2
5 %
Zombie Dragon/Grand Devil
2
5 %

---

Distribution by Rarity
Common
6
15 %
Promotional
3
8 %
Rare
11
28 %
Super Rare
10
25 %
Uncommon
8
20 %
Very Rare
2
5 %

---

Distribution by Type
Creature
24
60 %
Evolution Creature
1
3 %
Spell
15
38 %

---
Rating
Current score for this Deck, based on 21 votes:
4.38
Discussion about this Deck

Add your comments
Author
Message
ankit




Subject: Nomercy.. Posted: October 19, 2011 04:27 am

---

Wow, I don't understand your point here. You voted it a 2 because you don't like dragons? *sigh* You sure are something else. I checked everyone else's deck, your reasons.. They are outright absurd. It does seem like the only things you are good at, is running your mouth and playing with banned cards. I don't mind the banned cards part, I don't really care whether you do or not, honestly speaking, I doubt you can beat any one of us using your strongest banned cards. Anyhow, dude, please get a life. Just because your decks are no good, doesn't mean you go on a rampage and tell everyone else that there's isn't.

Back to top
rks_blitzer


LV36





Member since
July 18, 2010

Subject: Posted: October 30, 2011 11:55 pm

---

Read this before reading the rest of the comment: http://objection.mrdictionary.net/go.php?n=5336232




quote from ankit:

Wow, I don't understand your point here. You voted it a 2 because you don't like dragons?



Well, voting it a 2 is silly, but Dragons are unlikable. They are rather overused.




quote from ankit:
*sigh* You sure are something else. I checked everyone else's deck, your reasons.. They are outright absurd.



Not outright absurd. Not a reason to vote against a deck with, but not completely ridiculous.




quote from ankit:
It does seem like the only things you are good at, is running your mouth and playing with banned cards.



He doesn't play with banned cards, look at his decks.




quote from ankit:

I don't mind the banned cards part, I don't really care whether you do or not, honestly speaking, I doubt you can beat any one of us using your strongest banned cards.



With the optimal hybrid deck, yes, he can. They are banned for a reason.




quote from ankit:
Anyhow, dude, please get a life.



Just because he is against you means he has no life? The "no life" argument is stupid and irrelevant.




quote from ankit:
Just because your decks are no good,



Actually, they are quite good.




quote from ankit:
doesn't mean you go on a rampage and tell everyone else that there's isn't.



Well, this deck is not great.

Back to top
Modified on November 5, 2011 01:24 pm
ankit




Subject: Well.. Posted: October 31, 2011 04:44 am

---




quote from rks_blitzer:

Read this before reading the rest of the comment: http://objection.mrdictionary.net/go.php?n=5336232




quote from ankit:

Wow, I don't understand your point here. You voted it a 2 because you don't like dragons?



Well, voting it a 2 is silly, but Dragons are unlikable. They are rather overused.




quote from ankit:
*sigh* You sure are something else. I checked everyone else's deck, your reasons.. They are outright absurd.



Not outright absurd. Not a reason to vote against a deck with, but not completely ridiculous.




quote from ankit:
It does seem like the only things you are good at, is running your mouth and playing with banned cards.



He doesn't play with banned cards, look at his decks.




quote from ankit:

I don't mind the banned cards part, I don't really care whether you do or not, honestly speaking, I doubt you can beat any one of us using your strongest banned cards.



With the optimal hybrid deck, yes, he can. They are banned for a reason.




quote from ankit:
Anyhow, dude, please get a life.



Just because he is against you means he has no life? The "no life" argument is stupid and irrelevant.




quote from ankit:
Just because your decks are no good,



Actually, they are quite good.




quote from ankit:
doesn't mean you go on a rampage and tell everyone else that there's isn't.



Well, this deck is not optimal.




Well, I know some of my comments didn't make sense, but still, what you do and say, is.. Annoying. Why do you always have to assume that you are right? I mean, seriously, why do you have to be so annoying? I understand that you don't like me, neither my decks. But so what? You don't see me voting and leaving comments on anyone else's decks just cause I don't like them, or the decks. I keep it to myself. But your just like, I don't like it, I have to tell it to him. When will you realize that your negative comments don't really matter to us? Just cause you don't like the decks or decks that are build on something that doesn't suit you, it's bad? Amazing how people can be so weird.

Back to top
ankit




Subject: Ah.. Idk. Posted: October 31, 2011 08:30 am

---

Blitzer, forget I ever said anything to you. I don't like to argue about something that is based on opinions. You have yours, I have mine. You have a different style of dueling than I do, lets leave it at that.

Back to top
Add your comments