Deck "Deep Darkness"
TIP
Use your personal web page. Send your address (see it in
'your profile'
) to your pals and to the trading forums so that everyone can see your updated lists and offer you trades.
extended display
Deck "Deep Darkness"
Format: OCG - 45 Cards
created by monkeyking25

LV7
Can I build this deck?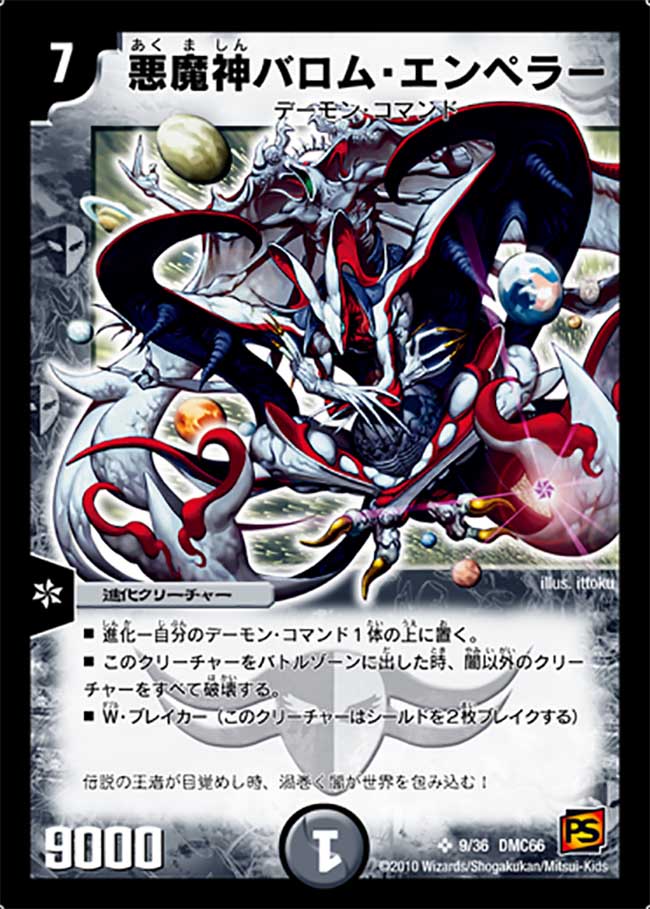 Please rate and comment so i can improve this deck!

If you like this deck then check out it's TCG counter part Click This to see it!
Section: Main Deck (45 cards)
Card
Set
Number
Type
Rarity
3
x
Aqua Surfer
SotM
16
Creature
Uncommon
3
x
Aquan Jr.'s Delivery
DMD-08
13
Spell
Common
3
x
Ballom Emperor, Lord of Demons
DMC-55
17
Evolution Creature
Super Rare
3
x
Deathraios, Cursed Blade Reaper
DMC-60
8
Creature
Uncommon
3
x
Deis Melnia, the Aqua Shadow
DMR-02
52
Creature
Common
2
x
Funk, Guard of Hope
DMR-05
54
Creature
Uncommon
2
x
Gal Volf, Dark Wolfblade
LoH
27
Creature
Uncommon
1
x
Hanzou, Menacing Phantom
DMX-08
3
Creature
Very Rare
1
x
Inferno Sign
DMC-44
2
Spell
Super Rare
4
x
Maxval, Electro-Fuuma
P-Y9
P21-Y9
Creature
Promotional
2
x
Olzekia, General of Decapitation
DMX-08
S2
Creature
Super Rare
3
x
Parole, the Lifesaving Puppet
GG
92
Creature
Common
3
x
Shadowflash Revival Spiral
DMR-02
40
Spell
Common
2
x
Startdash Reviver, Crystalline Shadow
DMD-02
1
Evolution Creature
Super Rare
1
x
Steiner, the Resurrecting Reaper
DM-37
11
Creature
Rare
2
x
Super Trash Train, Fuuma Devil
DMC-55
37
Creature
Rare
4
x
Terror Pit
BS
63
Spell
Rare
1
x
Triple Revival Resurrection
DMX-07
5
Spell
Rare
2
x
Zabi Olzekia, Demonic Sword General
DMX-05
6
Creature
Rare
Deck Statistics
Distribution by Civilization
Darkness
27
60 %
Water
9
20 %
Water/Darkness
9
20 %

---

Distribution by Cost
2
3
7 %
3
10
22 %
4
6
13 %
5
9
20 %
6
10
22 %
7
6
13 %
8
1
2 %

---

Distribution by Power
-
11
24 %
-
1
2 %
1000
6
13 %
2000
7
16 %
4000
3
7 %
5000
7
16 %
6000
4
9 %
7000
2
4 %
8000
1
2 %
9000
3
7 %

---

Distribution by Race
-
12
27 %
Dark Lord/Hunter/Alien
2
4 %
Death Puppet
3
7 %
Demon Command
11
24 %
Demon Command/Alien
2
4 %
Demon Command/Shinobi
1
2 %
Hedrian/Grand Devil
2
4 %
Liquid People
3
7 %
Liquid People/Ghost
2
4 %
Liquid People/Ghost/Alien
3
7 %
Liquid People/Grand Devil
4
9 %

---

Distribution by Rarity
Common
12
27 %
Promotional
4
9 %
Rare
10
22 %
Super Rare
8
18 %
Uncommon
10
22 %
Very Rare
1
2 %

---

Distribution by Type
Creature
28
62 %
Evolution Creature
5
11 %
Spell
12
27 %

---
Rating
Current score for this Deck, based on 7 votes:
3.29
Discussion about this Deck

Add your comments
Author
Message
monkeyking25


LV7





Member since
October 19, 2011

Subject: Would it work? Posted: July 9, 2012 03:24 pm

---

Picture if you will a duel, were you have a demon commander in the battle zone. Then you cast "Yabasgil Wrap" and your opponent chooses NOT to destroy their own creature; could I then put "Dorballom, Lord of Demons" into the battle zone? If "Yabasgil Wrap" can be used like that, then it is one of the best cards in the game right now. Whcih means it will most likely be banned soon.

Back to top
shobu_alexus


LV4





Member since
May 18, 2012

Subject: Posted: August 6, 2012 03:22 am

---

Yes yabasgil wrap can be used to summon dorballom as it doesnt say non-evo creature but here are a few things to be considered...the main purpose of yabasgil wrap is that our opponent may not destroy his creature and we may summon some high cost cards with awesome effects...knowing this fact, 99% chances are that our opponent will destroy the creature we choose...any good player will definitely know that we are using this spell only cause we have some powerful card in hand...so chances of yabasgil wrap actually doing its work is 1% or even less i'd say

Back to top
Modified on August 6, 2012 03:24 am
monkeyking25


LV7





Member since
October 19, 2011

Subject: Thanks Posted: August 8, 2012 03:48 am

---




quote from shobu_alexus:

Yes yabasgil wrap can be used to summon dorballom as it doesnt say non-evo creature but here are a few things to be considered...the main purpose of yabasgil wrap is that our opponent may not destroy his creature and we may summon some high cost cards with awesome effects...knowing this fact, 99% chances are that our opponent will destroy the creature we choose...any good player will definitely know that we are using this spell only cause we have some powerful card in hand...so chances of yabasgil wrap actually doing its work is 1% or even less i'd say




First thanks for commenting, second I realize that most players would just destroy their own creature rather than risking what i might summon, in that case i say who cares! Either i get to summon one of my powerful creatures or my opponent destroys one of his either way its win - win. Third thank you again for taking the time to comment.

For more on "yabasgil wrap" click here http://www.tradecardsonline.com/im/showCardReview/review_id/6410

Back to top
hahamystyle


LV4





Member since
May 1, 2012

Subject: Posted: August 18, 2012 08:57 am

---

you need make nature deck there so many cards what can manipulate mana bronze arm tribe faerie life dreaming mond knife

Back to top
monkeyking25


LV7





Member since
October 19, 2011

Subject: I have Posted: August 18, 2012 01:49 pm

---

Back to top
Add your comments