Deck "Victory Dragons"
TIP
Browse other people's
trade binders
displaying the images of all the cards they are offering for trade.
Deck "Victory Dragons"
Format: OCG - 47 Cards
created by monkeyking25

LV22
Can I build this deck?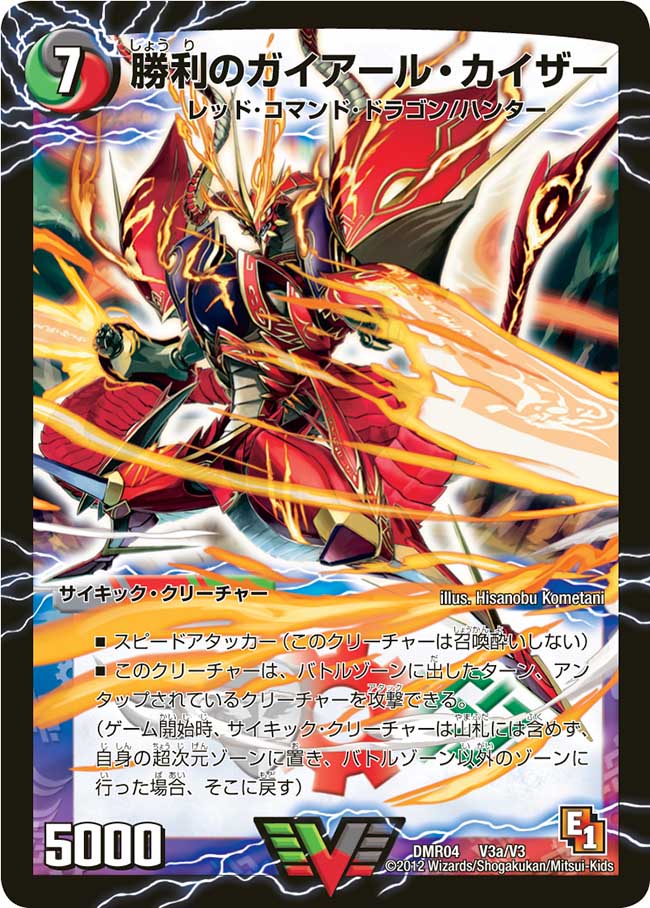 This is the Best deck I have ever made. It is the result of many matches, and is still a working process.
If you have any tips please comment. Please rate and comment!
Section: Main Deck (40 cards)
2
x
Come On Pippi (DMR-03)

Collector Number: 26
Rarity: Uncommon
Type: Creature
Race: Fire Bird/Hunter
Power: 1000
Cost: 5
Civilization: Fire
Artist: Tanru

Card text:

* When you put this creature into the battle zone, choose one of the following effects.


*º Put 2 Fire Bird psychic creatures with cost 3 or less into the battle zone from your hyperspatial zone.

*º Put a fire psychic creature with cost 6 or less into the battle zone from your hyperspatial zone.





(At the start of the game, separate your psychic creatures from your deck and put them into the hyperspatial zone. If a psychic creature would leave the battle zone, return it to the hyperspatial zone instead.)

3
x
Fire Pillar of the Spiritual Forest (DMR-02)

Collector Number: 45
Rarity: Common
Type: Spell
Cost: 5
Civilization: Fire
Artist: Katsuya

Card text:

Shield trigger (When this spell is put into your hand from your shield zone, you may cast it for no cost.)



* If you have a darkness or nature creature in the battle zone, destroy a creature with power 7000 or less. If not, destroy a creature with power 4000 or less.

2
x
Galaxy Falcon, Counterattack Fortress (DMR-02)

Collector Number: 12
Rarity: Rare
Type: Fortress
Cost: 1
Civilization: Fire
Artist: Ishibashi Yosuke

Card text:

* Fortress - Choose one of your shields and attach this card to fortify that shield. When the fortified shield leaves the shield zone, put this card into the graveyard. (Use "Shield Trigger" abilities before putting this card into the graveyard.)


* Your Hunters gain "speed attacker".

2
x
Genji Boy (P-Y10)

Collector Number: P28-Y10
Rarity: Uncommon
Type: Creature
Race: Human/Hunter
Power: 1000
Cost: 5
Civilization: Fire
Artist: Murakami Hasashi

Card text:

* Speed attacker (This creature doesn't get summoning sickness.)


* This creature attacks each turn if able.

* When your Hunters attack, destroy an opponents creatures with Blocker.

1
x
Geo Crashing Miranda, the Dimensional Force (DMX-06)

Collector Number: 18
Rarity: Common
Type: Creature
Race: Beast Folk/Alien
Power: 2000
Mana Number: 1
Cost: 5
Civilization: Nature
Artist: Daisuke Izuka

Card text:

* When you put this creature into the battle zone, put a light, fire, or nature psychic creature with a cost of 6 or less into the battle zone from your hyperspatial zone.


(At the start of your game, separate your psychic creatures from your deck and put them into the hyperspatial zone. If a psychic creature would leave the battle zone, return it to the hyperspatial zone instead.)

3
x
Hyperspatial Bolshack Hole (DMX-08)

Collector Number: 33
Rarity: Common
Type: Spell
Mana Number: 1
Cost: 5
Civilization: Fire
Artist: MATSUMOTO EITO

Card text:

* Destroy one of your opponent's creatures that has 3000 power or less.


* Choose and activate one of the following effects.




*º Choose creatures from your hyperspatial zone with a total cost of 5 or less and put them into the battle zone.





*º Choose 1 Fire creature with a cost of 7 or less from your hyperspatial zone and put it into the battle zone.





(At the start of your game, separate your psychic creatures from your deck and put them into the hyperspatial zone. If a psychic creature would leave the battle zone, return it to the hyperspatial zone instead.)

2
x
Hyperspatial Faerie Hole (DMX-08)

Collector Number: 35
Rarity: Common
Type: Spell
Mana Number: 1
Cost: 5
Civilization: Nature
Artist: MATSUMOTO EITO

Card text:

* Put the top card of your deck into your mana zone.


* Choose and activate one of the following effects.




*º Choose creatures from your hyperspatial zone with a total cost of 5 or less and put them into the battle zone.





*º Choose 1 Nature creature with a cost of 7 or less from your hyperspatial zone and put it into the battle zone.





(At the start of your game, separate your psychic creatures from your deck and put them into the hyperspatial zone. If a psychic creature would leave the battle zone, return it to the hyperspatial zone instead.)

2
x
Hyperspatial Red Green Hole (DMR-02)

Collector Number: 34
Rarity: Uncommon
Type: Spell
Cost: 4
Civilization: Fire/Nature
Artist: MATSUMOTO EITO

Card text:

* (This spell is put into your mana zone tapped.)


* Put a psychic creature with cost 5 or less into the battle zone from your hyperspatial zone.

* If you put a fire psychic creature into the battle zone in this way, this turn, one of your creatures can attack untapped creatures.

* If you put a nature psychic creature into the battle zone in this way, you may return a card from your mana zone to your hand.

3
x
Iron Arm Tribe (P-Y10)

Collector Number: P23-Y10
Rarity: Common
Type: Creature
Race: Beast Folk/Hunter
Power: 1000
Cost: 4
Civilization: Nature
Artist: kometani

Card text:

* When you put this creature into the battle zone, put the top card of your deck into your mana zone.


* When this creature is destroyed, put it into your mana zone instead of your graveyard.

1
x
Kaiser Flame, Secret Dragon Flame (DMR-06)

Collector Number: 30
Rarity: Rare
Type: Spell
Mana Number: 1
Cost: 7
Civilization: Fire
Artist: Murakami Hisashi

Card text:

* Attack Chance: Red Command Dragon (When one of your Red Command Dragons attack, you may cast this spell for no cost.)


* Destroy all of your opponent's creatures with "Blocker".

* If there is a Red Command Dragon with Victory in your battle zone, after casting this spell, you may put it on the top of your deck instead of putting it into the graveyard.

3
x
Mary-kun, Steward Sheep (DMX-09)

Collector Number: 9
Rarity: Promotional
Type: Creature
Race: Dreammate/Hunter
Power: 3000
Mana Number: 1
Cost: 3
Civilization: Nature

Card text:

* When this creature attacks, you may put the top card of your deck into the mana zone.

3
x
Moel, Love Sniper (DMR-06)

Collector Number: 29
Rarity: Uncommon
Type: Creature
Race: Human/Hunter/Alien
Power: 1000
Mana Number: 1
Cost: 5
Civilization: Fire
Artist: Tanru

Card text:

Shield trigger (When this creature is put into your hand from your shield zone, you may summon it immediately for no cost.)



* When you put this creature or a creature with a cost of 7 or more into the battle zone, destroy one of your opponent's creatures with power 4000 or less.

2
x
Ogre Kaiser "Destruction" (DMX-08)

Collector Number: S4
Rarity: Super Rare
Type: Creature
Race: Red Command Dragon/Hunter/Alien
Power: 7000
Mana Number: 1
Cost: 6
Civilization: Fire
Artist: Hisashi Murakami

Card text:

* Speed attacker (This creature doesn't get summoning sickness.)


* When this creature attacks, destroy one of your opponent's psychic creatures.

* Double breaker (This creature breaks 2 shields.)

2
x
Silver Scoop (DMD-03)

Collector Number: 6
Rarity: Promotional
Type: Creature
Race: Beast Folk/Hunter
Power: 3000
Cost: 4
Civilization: Nature
Artist: YOICHI ITO

Card text:

When you put this creature into the battle zone, choose one of your creatures in the battle zone and put it into your mana zone. Then your opponent chooses one of his creatures and puts it into its owner's mana zone.

2
x
Startdash Buster, Divine Hero Mech (P-Y10)

Collector Number: P3-Y10
Rarity: Promotional
Type: Evolution Creature
Race: Human/Beast Folk
Power: 6000
Mana Number: 1
Cost: 4
Civilization: Fire/Nature

Card text:

* (This creature is put into your mana zone tapped.)


* Evolution - Put on one of your fire or nature creatures.

* When you put this creature into the battle zone, choose one of your opponent's creatures with a cost of 5 or less and put it into the owners mana zone.

* Double breaker (This creature breaks 2 shields.)

4
x
Taiga, the Warrior Savage (DMX-09)

Collector Number: 12
Rarity: No Rarity
Type: Creature
Race: Human/Beast Folk
Power: 2000
Mana Number: 1
Cost: 2
Civilization: Fire/Nature
Artist: hippo

Card text:

* (This creature is put into your mana zone tapped.)


* Speed attacker (This creature doesn't get summoning sickness.)

3
x
Yattare Pippi (DMD-03)

Collector Number: 7
Rarity: Promotional
Type: Creature
Race: Fire Bird/Hunter
Power: 2000
Mana Number: 1
Cost: 2
Civilization: Fire/Nature
Artist: MITUAKI MATSUMOTO

Card text:

* (This creature is put into your mana zone tapped.)


* You may have your Hunters cost 1 less to summon. They can't cost less than 1.

Section: Hyperspatial Zone (7 cards)
2
x
Gaial Kaiser, the Victorious/Gaial Ore Dragon, the Vainglory (DMR-04)

Collector Number: V3
Rarity: Victory Rare
Type: Psychic Super Creature
Race: Red Command Dragon/Hunter//Rainbow Command Dragon/Hunter
Power: 5000/26000
Cost: 7/30
Civilization: Light/Water/Darkness/Fire/Nature
Artist: Ishibashi Yosuke

Card text:

* Speed attacker (This creature doesn't get summoning sickness.)


* During the turn this creature was put into the battle zone, this creature can attack untapped creatures.

(At the start of the game, separate your psychic creatures from your deck and put them into the hyperspatial zone. If a psychic creature would leave the battle zone, return it to the hyperspatial zone instead.)

---

* Speed attacker (This creature doesn't get summoning sickness.)


* Hunting (During battle, this creature gets +1000 power for each of your Hunter creatures in the battle zone)

* When this creature wins a battle, untap this creature, then choose two of your opponent's shields. Add those shields to your opponent's hand.

* World breaker (This creature breaks all of your opponent's shields.)

* Link Release (When this creature would leave the battle zone, return 1 psychic cell to your hyperspatial zone and flip the other cards instead.)

1
x
Prin Prin, the Victorious/Gaial Ore Dragon, the Vainglory (DMR-04)

Collector Number: 51
Rarity: Common
Type: Psychic Super Creature
Race: Hunter/Alien//Rainbow Command Dragon/Hunter
Power: 4000/26000
Cost: 5/30
Civilization: Light/Water/Darkness/Fire/Nature
Artist: Ishibashi Yosuke

Card text:

* When you put this creature into the battle zone, choose one of your opponent's creatures. Until the start of your next turn, that creature can't attack or block.


* Victory Psychic Link - If you have Victory Meteor Kaiser and Victory Gaial Kaiser in the battle zone, link this creature and those creatures and flip them.

(At the start of your game, separate your psychic creatures from your deck and put them into the hyperspatial zone. If a psychic creature would leave the battle zone, return it to the hyperspatial zone instead.)

---

* Speed attacker (This creature doesn't get summoning sickness.)


* Hunting (During battle, this creature gets +1000 power for each of your Hunter creatures in the battle zone)

* When this creature wins a battle, untap this creature, then choose two of your opponent's shields. Add those shields to your opponent's hand.

* World breaker (This creature breaks all of your opponent's shields.)

* Link Release (When this creature would leave the battle zone, return 1 psychic cell to your hyperspatial zone and flip the other cards instead.)

1
x
Ryusei Kaiser, the Victorious/Gaial Ore Dragon, the Vainglory (DMR-04)

Collector Number: V2
Rarity: Victory Rare
Type: Psychic Super Creature
Race: Red Command Dragon/Hunter//Rainbow Command Dragon/Hunter
Power: 6000/26000
Cost: 6/30
Civilization: Light/Water/Darkness/Fire/Nature
Artist: Ishibashi Yosuke

Card text:

* Your opponent's cards are put into his mana zone tapped.


* Double breaker (This creature breaks 2 shields.)

(At the start of the game, separate your psychic creatures from your deck and put them into the hyperspatial zone. If a psychic creature would leave the battle zone, return it to the hyperspatial zone instead.)

---

* Speed attacker (This creature doesn't get summoning sickness.)


* Hunting (While battling, this creature gets +1000 power for each of your Hunter creatures in the battle zone)

* When this creature wins a battle, untap this creature, then choose two of your opponent's shields. Your opponent returns those shields to his hand.

* World breaker (This creature breaks all of your opponent's shields.)

* Link Release (When this creature would leave the battle zone, return 1 psychic cell to your hyperspatial zone and flip the other cards instead.)

1
x
Ryusei the Forever Kaiser/Gaial Ryusei Dragon, Star Dragon King (DMR-03)

Collector Number: V1
Rarity: Victory Rare
Type: Psychic Super Creature
Race: Red Command Dragon/Hunter//King Command Dragon/Hunter
Power: 6000/19000
Cost: 6/20
Civilization: Fire
Artist: Daisuke Izuka

Card text:

* Your opponent's psychic creatures can't attack players.


* Double breaker (This creature breaks 2 shields.)

---

* Your creatures gain speed attacker.


* Your opponent's psychic creatures can't attack or block.

* When this creature attacks, you may put up to two cards from the top of your deck into the graveyard. For each card put into the graveyard in this way, put a psychic creature with that card's cost or less into the battle zone from your hyperspatial zone.

* Triple breaker (This creature breaks 3 shields)

* Link Release (When this creature would leave the battle zone, return 1 psychic cell to your hyperspatial zone and flip the other cards instead.)

1
x
Sakon Pippi/Gaial Ryusei Dragon, Star Dragon King (DMR-03)

Collector Number: 43
Rarity: Common
Type: Psychic Super Creature
Race: Fire Bird/Hunter//King Command Dragon/Hunter
Power: 3000/19000
Cost: 2/20
Civilization: Fire
Artist: Daisuke Izuka

Card text:

* Psychic Link: At the start of your turn, if you have Forever Meteor Kaiser and Ukon Pippi in the battle zone, link them to this creature and flip this creature.


(At the start of your game, separate your psychic creatures from your deck and put them into the hyperspatial zone. If a psychic creature would leave the battle zone, return it to the hyperspatial zone instead.)

---

* Your creatures gain speed attacker.


* Your opponent's psychic creatures can't attack or block.

* When this creature attacks, you may put up to two cards from the top of your deck into the graveyard. For each card put into the graveyard in this way, put a psychic creature with that card's cost or less into the battle zone from your hyperspatial zone.

* Triple breaker (This creature breaks 3 shields)

* Link Release (When this creature would leave the battle zone, return 1 psychic cell to your hyperspatial zone and flip the other cards instead.)

1
x
Ukon Pippi/Gaial Ryusei Dragon, Star Dragon King (DMR-03)

Collector Number: 42
Rarity: Common
Type: Psychic Super Creature
Race: Fire Bird/Hunter//King Command Dragon/Hunter
Power: 1000/19000
Cost: 3/20
Civilization: Fire
Artist: Daisuke Izuka

Card text:

* Your Dragons get +2000 power.


(At the start of your game, separate your psychic creatures from your deck and put them into the hyperspatial zone. If a psychic creature would leave the battle zone, return it to the hyperspatial zone instead.)

---

* Your creatures gain speed attacker.


* Your opponent's psychic creatures can't attack or block.

* When this creature attacks, you may put up to two cards from the top of your deck into the graveyard. For each card put into the graveyard in this way, put a psychic creature with that card's cost or less into the battle zone from your hyperspatial zone.

* Triple breaker (This creature breaks 3 shields)

* Link Release (When this creature would leave the battle zone, return 1 psychic cell to your hyperspatial zone and flip the other cards instead.)
Deck Statistics
Distribution by Civilization
Fire
21
45 %
Fire/Nature
11
23 %
Light/Water/Darkness/Fire/Nature
4
9 %
Nature
11
23 %

---

Distribution by Cost
1
2
4 %
2
7
15 %
2/20
1
2 %
3
3
6 %
3/20
1
2 %
4
9
19 %
5
16
34 %
5/30
1
2 %
6
2
4 %
6/20
1
2 %
6/30
1
2 %
7
1
2 %
7/30
2
4 %

---

Distribution by Power
-
13
28 %
1000
10
21 %
1000/19000
1
2 %
2000
8
17 %
3000
5
11 %
3000/19000
1
2 %
4000/26000
1
2 %
5000/26000
2
4 %
6000
2
4 %
6000/19000
1
2 %
6000/26000
1
2 %
7000
2
4 %

---

Distribution by Race
-
13
28 %
Beast Folk/Alien
1
2 %
Beast Folk/Hunter
5
11 %
Dreammate/Hunter
3
6 %
Fire Bird/Hunter
5
11 %
Fire Bird/Hunter//King Command Dragon/Hunter
2
4 %
Human/Beast Folk
6
13 %
Human/Hunter
2
4 %
Human/Hunter/Alien
3
6 %
Hunter/Alien//Rainbow Command Dragon/Hunter
1
2 %
Red Command Dragon/Hunter//King Command Dragon/Hunter
1
2 %
Red Command Dragon/Hunter//Rainbow Command Dragon/Hunter
3
6 %
Red Command Dragon/Hunter/Alien
2
4 %

---

Distribution by Rarity
Common
15
32 %
Promotional
10
21 %
Rare
3
6 %
Super Rare
6
13 %
Uncommon
9
19 %
Victory Rare
4
9 %

---

Distribution by Type
Creature
25
53 %
Evolution Creature
2
4 %
Fortress
2
4 %
Psychic Super Creature
7
15 %
Spell
11
23 %

---
Rating
Current score for this Deck, based on 7 votes:
4.29
Discussion about this Deck

Add your comments
Author
Message
monkeyking25


LV22





Member since
October 19, 2011

Subject: trades Posted: November 19, 2011 12:40 pm

---

Do not ask me for trades from this deck.

Back to top
monkeyking25


LV22





Member since
October 19, 2011

Subject: Lame Limites Posted: July 19, 2012 04:15 am

---

As of August 11th, 2012 both "Bolbalzak X," and "Geo Crashing Miranda, the Dimensional Force" are now limited. In order to keep my deck legal I have reduced the number of copies in this deck.

Back to top
heatedline




Subject: Posted: July 21, 2012 05:43 am

---

u should try Genji XX and remove some of creatures and add Hyperspatial Shooting Hole and Gaial Kaiser in psychic.

Back to top
monkeyking25


LV22





Member since
October 19, 2011

Subject: Posted: July 22, 2012 08:18 am

---




quote from heatedline:

u should try Genji XX and remove some of creatures and add Hyperspatial Shooting Hole and Gaial Kaiser in psychic.




Genji XX is good but Genji boy is better for this deck with all of its hunters.
As for shooting hole over bolshack hole, I choose bolchack hole because is can be used to summon any of my psychic creatures.
As for Gaial Kaiser it is a better card compared to Victory Gaial Kaiser, I could have both but none of my current Hyperspatial spells can summon it.

What ever i choose to do I appreciate you taking the time to comment on my deck. It never hurts to have other peoples opinions!

Back to top
Modified on July 22, 2012 08:20 am
hahamystyle




Subject: false Posted: August 21, 2012 12:40 pm

---

you need coco lupia instead of yatare pipi

Back to top
monkeyking25


LV22





Member since
October 19, 2011

Subject: You're wrong Posted: August 21, 2012 01:18 pm

---




quote from hairstyle:

you need coco lupia instead of yatare pipi




I have like 5 dragons in this deck and dozens of hunters, so yatare is much better for this deck. But thank you for commenting

Back to top
Add your comments