Deck "Dragon Drama"
Deck "Dragon Drama"
Format: OCG - 50 Cards
created by monkeyking25

LV26
Can I build this deck?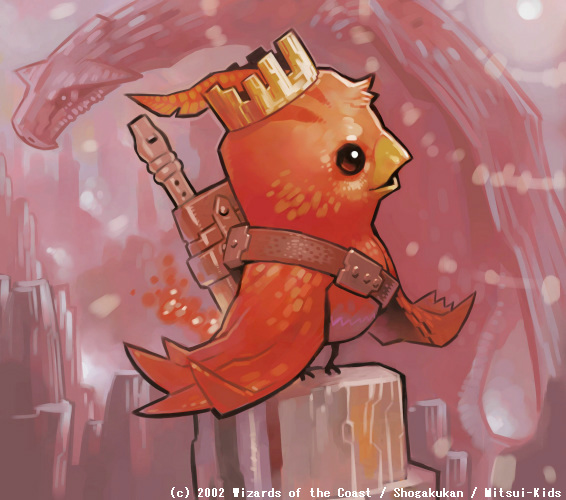 A Fire, Nature, Dragon Deck. ENJOY!

Please Rate and Comment so i can improve this deck!
If you Rate this Deck a 3 or Less, Please give a Reason!

If you liked this deck then check out it's TCG counter part, Click This to see it!
Section: Main Deck (40 cards)
2
x
Batocross Battle, Passion Dragon (DMD-18)

Collector Number: 3
Rarity: No Rarity
Type: Creature
Race: Gaial Command Dragon
Power: 7000
Mana Number: 1
Cost: 8
Civilization: Fire
Artist: MATSUMOTO EIGHT

Card text:

Shield trigger


* When you put this creature into the battle zone, choose one of your opponent's creatures in the battle zone. That creature and this creature battle.

* Double breaker

* When you put this creature into the battle zone during your opponent's turn, put this creature on the bottom of your deck at the end of the turn.

1
x
Bolbalzak Ex (DMX-04)

Collector Number: S5
Rarity: Super Rare
Type: Creature
Race: Armored Dragon/Earth Dragon/Hunter
Power: 6000
Cost: 7
Civilization: Fire/Nature
Artist: Sansyu

Card text:

* (This creature is put into your mana zone tapped.)


* When you put this creature into the battle zone, untap all cards in your mana zone.

* Speed attacker (This creature doesn't have summoning sickness.)

* Double breaker (This creature breaks 2 shields.)

4
x
Child Festival of Faerie Fire (DMX-14)

Collector Number: 81
Rarity: Common
Type: Spell
Mana Number: 1
Cost: 3
Civilization: Nature
Artist: Tanru

Card text:

* Look at the top two cards of your deck. Put one of them into your mana zone tapped, and put the other one on the bottom of your deck. If you put a fire card into your mana zone in this way, return this spell to your hand after casting it instead of putting it into your graveyard.

4
x
Cocco Lupia (SAToIW)

Collector Number: 77
Rarity: Uncommon
Type: Creature
Race: Fire Bird
Power: 1000
Mana Number: 1
Cost: 3
Civilization: Fire
Artist: Akifumi Yamamoto

Card text:

■ Your creatures that have Dragon in their race each cost 2 less to summon. (Dragonoids don't count.) They can't cost less than 2.


Each Fire Bird is given one Dragon egg to take care of. After the Dragon hatches, the friendship lasts a lifetime.

1
x
Dogiragon, Flaming Revolution (DMR-17)

Collector Number: L1
Rarity: Legend Rare
Type: Evolution Creature
Race: Mega Command Dragon/Revolutionary
Power: 15000
Mana Number: 1
Cost: 7
Civilization: Fire
Artist: NAKAMURA 8

Card text:

* Evolution - Put on one of your fire creatures.

* Triple breaker

* Revolution 2 - When you put this creature into the battle zone if you have 2 shields or less, you can't lose the game and your opponent can't win until the start of your next turn.

* Revolution 0 - Whenever this creature attacks, if you have no shields, untap it.

3
x
Glenmalt "Head", Dimension Dragon Edge (DMD-20)

Collector Number: 2
Rarity: No Rarity
Type: Creature
Race: Gaial Command Dragon/Human Baku/Draguner
Power: 7000
Mana Number: 1
Cost: 7
Civilization: Fire
Artist: TUBAKI HALSAME

Card text:

* Speed attacker


* Double breaker

* Mana Arms 7: Whenever this creature attacks, if you have 7 or more fire cards in your mana zone, choose one of the following.




> Put a non-weapon card that costs 6 or less from your hyperspatial zone into the battle zone.

> Put a weapon that costs 6 or less from your hyperspatial zone into the battle zone and equip it to this creature.


4
x
Gogo Jigocchi (DMX-20)

Collector Number: 19
Rarity: No Rarity
Type: Creature
Race: Fire Bird En/Revolutionary
Power: 2000
Mana Number: 1
Cost: 3
Civilization: Fire
Artist: Yuukoo009

Card text:

* When you put this creature into the battle zone, look at the top 5 cards of your deck. You may reveal a dragon from among them and put it into your hand. Then, put the rest of the cards on the bottom of your deck in any order.

2
x
Hero Mystery, Burning Galaxy (DMD-20)

Collector Number: 7
Rarity: No Rarity
Type: Spell
Mana Number: 1
Cost: 5
Civilization: Fire
Artist: shosuke

Card text:

Shield trigger


* Choose one of your opponent's cards in the battle zone that costs 5 or less and put it into its owner's graveyard.

* Mana Arms 7: If you have 7 or more fire cards in your mana zone, choose one of your opponents cards in the battle zone that costs 12 or less and put it into its owner's graveyard.

1
x
Jigon, Revolution Dragon (DMX-20)

Collector Number: 4
Rarity: Common
Type: Evolution Creature
Race: Mega Command Dragon/Revolutionary
Power: 13000
Mana Number: 1
Cost: 6
Civilization: Fire

Card text:

* Evolution - Put on one of your fire creatures.

* Triple breaker

* Revolution 2 - When you put this creature into the battle zone, if you have 2 shields or less, choose any number of your opponent's creatures that have total cost 6 or less and destroy them.

3
x
MaltNEXT, Super Battle Dragon Edge (DMR-16?)

Collector Number: VV1
Rarity: Double Victory
Type: Creature
Race: Gaial Command Dragon/Human Baku/Draguner
Power: 9000
Mana Number: 1
Cost: 7
Civilization: Fire
Artist: shosuke

Card text:

* Mana Arms 5: When you put this creature into the battle zone, if you have 5 or more fire cards in your mana zone, put a fire dragheart that costs 5 or less from your hyperspatial zone into the battle zone. (If its a weapon, equip it to this creature.)


* Dragon Mana Arms 5: When this creature attacks for the first time in a turn, if you have 5 or more fire Dragons in your mana zone, untap it after the attack.

* Double breaker

1
x
Mega Manalock Dragon (DMR-17)

Collector Number: S8
Rarity: Super Rare
Type: Creature
Race: Mega Command Dragon
Power: 7000
Mana Number: 1
Cost: 6
Civilization: Fire
Artist: Clazroom

Card text:

■ Double breaker

■ When you put this creature into the battle zone or whenever it attacks, choose a light, water, darkness, fire and nature card in your opponent's mana zone and tap them. Those cards don't untap at the start of your opponent's next turn.

欲張り野郎にはお仕置きが必要だな。
(It's necessary to give punishment to greedy bastards.
---Mega Manalock Dragon)

4
x
Mendelssohn (DMX-14)

Collector Number: 23
Rarity: No Rarity
Type: Spell
Mana Number: 1
Cost: 2
Civilization: Fire/Nature
Artist: Sato Masanori

Card text:

* (This card is put into your mana zone tapped.)


* Reveal the top two cards of your deck. Put all Dragons revealed this way into the mana zone tapped and put the rest into your graveyard.

2
x
Meteor Charger (DMR-13)

Collector Number: 101
Rarity: Common
Type: Spell
Mana Number: 1
Cost: 3
Civilization: Fire
Artist: SHURIKEN

Card text:

* Destroy one of your opponent's creatures that has "blocker".


* Charger (After you cast this spell, put it into your mana zone instead of your graveyard.)

2
x
Mettagils, Passion Dragon (DMR-16?)

Collector Number: 13
Rarity: Rare
Type: Creature
Race: Gaial Command Dragon
Power: 6000
Mana Number: 1
Cost: 7
Civilization: Fire
Artist: touge369

Card text:

* Mana Arms 5: When this creature is put into your hand from your shields, if you have 5 or more Fire cards in your mana zone, this creature gets "shield trigger".


* When you put this creature into the battle zone, choose one of your opponent's cards that costs 5 or less in the battle zone and put it into its owner's graveyard.

* Double breaker (This creature breaks 2 shields.)

2
x
Mitsurugi Boost, Matchless Dragon Demon (DMD-07)

Collector Number: 7
Rarity: Common
Type: Creature
Race: Earth Dragon/Armored Dragon/Hunter
Power: 5000
Mana Number: 1
Cost: 5
Civilization: Fire/Nature
Artist: MATSUMOTO EIGHT

Card text:

* (This card is put into your mana zone tapped.)


* When you put this creature into the battle zone, you may put this creature into the mana zone. If you do, destroy one of your opponent's creature's with power 6000 or less.

2
x
Ryusei Kaiser, the Eternal (DMR-02)

Collector Number: S3
Rarity: Super Rare
Type: Creature
Race: Red Command Dragon/Hunter
Power: 8000
Cost: 8
Civilization: Fire
Artist: NINNIN

Card text:

* All of your creatures gain "speed attacker".


* Double breaker

* Your opponent's creatures are put into the battle zone tapped.

* When the ability of one of your opponent's creatures or spells would discard this creature from your hand, you may put it into the battle zone instead of putting it into the graveyard.

2
x
Tenshukaku, Dragon King Keep (DMR-13)

Collector Number: 34
Rarity: Rare
Type: Spell
Mana Number: 1
Cost: 5
Civilization: Fire
Artist: kawasumi

Card text:

Shield trigger


* Look at the top 5 cards of your deck. From among them, you may show a fire creature to your opponent and destroy one of your opponent's creatures that has the same or less power.

* Mana Arms 5 -If you have 5 or more fire cards in your mana zone, add the revealed card to your hand.

* Shuffle your deck.

Section: Hyperspatial Zone (10 cards)
1
x
Batorai Bushin, Blazing Deluxe (DMX-18)

Collector Number: 1c
Rarity: Victory Rare
Type: Dragheart Creature
Race: Gaial Command Dragon
Power: 12000
Mana Number: 0
Cost: 8
Civilization: Fire
Artist: TUBAKI HALSAME

Card text:

* Whenever this creature attacks, reveal the top 3 cards of your deck. Put all non-evolution humans and non-evolution dragons into the battle zone. If all cards are dragons, each of your creatures gets "speed attacker". Put the rest on the bottom of your deck.


* Triple breaker (This creature breaks 3 shields)

* Dragon Evade - When this creature would leave the battle zone, flip it to the dragheart fortress side instead.

1
x
Batorai Edge, Blazing Sword/Batorai Keep, Blazing Castle (DMX-18)

Collector Number: 1
Rarity: Victory Rare
Type: Dragheart Fortress
Mana Number: 0
Cost: 3/5
Civilization: Fire
Artist: TUBAKI HALSAME

Card text:

* Whenever the equipped creature attacks, reveal the top card of your deck. If it's a non-evolution human or a non-evolution dragon, put it into the battle zone. Otherwise put it at the bottom of your deck.


* A creature equipped with this can't be attacked.

* Dragon Solution - At the end of your turn, if you put a dragon in the battle zone this turn, flip this card to the Dragheart Fortress side. (At the start of your game, draghearts are put into your hyperspatial zone. If a creature equipped with it or the dragheart leaves the battle zone, return it to your hyperspatial zone.)

---

* Whenever one of your humans or fire dragons attacks, reveal the top card of your deck. If it's a non-evolution human or non-evolution dragon, put it into the battle zone.


* Dragon Solution - When you put a dragon in the battle zone, if it's not the first dragon put into the battle zone this turn, you may flip this card to the dragheart creature side and untap it. (At the start of your game, draghearts are put into your hyperspatial zone. If a creature equipped with it or the dragheart leaves the battle zone, return it to your hyperspatial zone.)

1
x
Batorai Keep, Blazing Castle (DMX-18)

Collector Number: 1b
Rarity: Victory Rare
Type: Dragheart Fortress
Mana Number: 0
Cost: 5
Civilization: Fire
Artist: TUBAKI HALSAME

Card text:

* Whenever one of your humans or fire dragons attacks, reveal the top card of your deck. If it's a non-evolution human or non-evolution dragon, put it into the battle zone. Otherwise put it at the bottom of your deck.


* Dragsolution—When you put a dragon in the battle zone, if it's not the first dragon put into the battle zone this turn, You may flip this card to the dragheart creature side and untap it. (At the start of your game, draghearts are put into your hyperspatial zone. If a creature equipped with it or the dragheart leaves the battle zone, return it to your hyperspatial zone.)

1
x
Forefront Double Cross Shogunate/GENJI "Heaven", Passion Dragon (DMD-20)

Collector Number: 5
Rarity: No Rarity
Type: Dragheart Creature
Race: Gaial Command Dragon
Power: /7000
Mana Number: 0
Cost: 3/6
Civilization: Fire
Artist: Yuukoo009

Card text:

* Whenever one of your fire Dragons attacks, destroy one of your opponent's creatures that has "blocker".


* Dragsolution - When one of your fire creatures attacks, if it's the second Fire creature that attacked this turn, flip this card to the dragheart creature side and untap it.

---

* Whenever your creatures attack, destroy one of your opponent's creatures that has "blocker".


* Double breaker (This creature breaks 2 shields.)

1
x
Gaial, Leader Dragon Sword/Gaiburn, Furious Leader Dragon (DMD-18)

Collector Number: 2
Rarity: No Rarity
Type: Dragheart Creature
Race: Gaial Command Dragon
Power: /9000
Mana Number: 1
Cost: 4/7
Civilization: Fire
Artist: NakamuraB

Card text:

* When you put this Dragheart into the battle zone, you may choose one of your opponent's creatures in the battle zone. It battles with the creature equipped with this dragheart.


* Dragsolution - Whenever one of your Gaial Command Dragons or creature that has "Gaial" in its name attacks, flip this card to the dragheart creature side and untap it.

---

* Whenever this creature attacks, destroy one of your opponent's creatures that has power less than it.


* Double breaker

1
x
Gaiheart, Galaxy Sword/Gaiginga, Passionate Star Dragon (DMR-13)

Collector Number: VV1
Rarity: Double Victory
Type: Dragheart Creature
Race: Gaial Command Dragon
Power: 9000+
Mana Number: 1
Cost: 4/7
Civilization: Fire
Artist: Tanru

Card text:

* A creature equipped with this gets "Speed attacker".


* Dragon Solution - When any of your creatures attacks, if that attack is the second attack of this turn, after the attack, flip this card to the dragheart creature side and untap it.

---

* Speed attacker * Double breaker


* When this creature is Dragon Solutioned, destroy one of your opponent's creatures that has power 7000 or less.

* While battling, this creature gets +4000 power.

* Whenever your opponent chooses this creature, take an extra turn after this one.

1
x
Gaiohburn, Head General Sword/Gairaioh, Victory Head (DMD-20)

Collector Number: 6
Rarity: Victory Rare
Type: Dragheart Creature
Race: Gaial Command Dragon
Power: /11000
Mana Number: 0
Cost: 5/9
Civilization: Fire
Artist: shosuke

Card text:

* When you put this dragheart into the battle zone, you may choose one of your opponent's creatures in the battle zone. That creature battles with the equipped creature.


* While battling, the creature equipped with this gets +3000 power.

* Dragsolution - When one of your creatures wins a battle during this turn, if its the second time one of your creatures had won a battle, flip this card to the dragheart creature side and untap it.

(At the start of your game, draghearts are put into your hyperspatial zone. If a creature equipped with it or the dragheart leaves the battle zone, return it to your hyperspatial zone.)

---

* Speed attacker (This creature doesn't get summoning sickness.)


* Double breaker (This creature breaks 2 shields.)

* During each turn, when you are attacked for the first time, you may have the attacking creature battle with this creature.

1
x
Gigaheart, Invincible King Sword/Ohginga, Strongest Passion (DMR-15)

Collector Number: VV1
Rarity: Double Victory
Type: Dragheart Creature
Race: Gaial Command Dragon
Power: /15000
Mana Number: 0
Cost: 6/11
Civilization: Fire
Artist: lack

Card text:

* A creature equipped with this gets "speed attacker" and can't be destroyed while attacking.


* Dragsolution - When any of your Dragons attacks, if that is the second Dragon that attacked this turn, after the attack, flip this card to the dragheart creature side and untap it.

---

* Speed attacker


* Whenever this creature attacks or whenever your opponent chooses this creature, put a dragheart creature that costs 10 or less from your hyperspatial zone into the battle zone. That creature gets "speed attacker" until the end of the turn.

* Triple breaker

1
x
Heart Burn, Battle General Galaxy Fortress/GuyNEXT, Super Battle Victory Dragon (DMR-16?)

Collector Number: VV1
Rarity: Double Victory
Type: Dragheart Creature
Race: Gaial Command Dragon
Power: /17000
Mana Number: 0
Cost: 5/10
Civilization: Fire

Card text:

* Each of your Dragons in the battle zone gets "speed attacker".

* Dragsolution - When one of your Dragons untaps, flip this to the Dragheart creature side and untap it. (At the start of your game, draghearts are put into your hyperspatial zone. If a creature equipped with it or the dragheart leaves the battle zone, return it to your hyperspatial zone.)

---

* Each of your creatures in the battle zone gets "speed attacker".

* Triple breaker

* Dragon Evade - When this creature would leave the battle zone, flip it to the dragheart fortress side instead.

1
x
Protoheart, Galaxy Sword/Gaiginga Soul, Star Dragon Solution (Y-13)

Collector Number: P15-Y13
Rarity: Promotional
Type: Dragheart Creature
Race: Gaial Command Dragon
Power: 8000
Mana Number: 1
Cost: 4/7
Civilization: Fire
Artist: lack

Card text:

*When the creature equipped with is tapped for the first time each turn, untap it.


* Dragon Solution—At the end of your turn, if the creature equipped with this attacked 2 times, flip this card to the dragheart creature side and untap it. (At the start of your game, draghearts are put into your hyperspatial zone. If a creature equipped with it or the dragheart leaves the battle zone, return it to your hyperspatial zone.)

---

* Each turn, when this creature is tapped for the first time, untap it.

* Double breaker
Deck Statistics
Distribution by Civilization
Fire
39
78 %
Fire/Nature
7
14 %
Nature
4
8 %

---

Distribution by Cost
2
4
8 %
3
14
28 %
3/5
1
2 %
3/6
1
2 %
4/7
3
6 %
5
7
14 %
5/10
1
2 %
5/9
1
2 %
6
2
4 %
6/11
1
2 %
7
10
20 %
8
5
10 %

---

Distribution by Power
-
16
32 %
/11000
1
2 %
/15000
1
2 %
/17000
1
2 %
/7000
1
2 %
/9000
1
2 %
1000
4
8 %
12000
1
2 %
13000
1
2 %
15000
1
2 %
2000
4
8 %
5000
2
4 %
6000
3
6 %
7000
6
12 %
8000
3
6 %
9000
3
6 %
9000+
1
2 %

---

Distribution by Race
-
16
32 %
Armored Dragon/Earth Dragon/Hunter
1
2 %
Earth Dragon/Armored Dragon/Hunter
2
4 %
Fire Bird
4
8 %
Fire Bird En/Revolutionary
4
8 %
Gaial Command Dragon
12
24 %
Gaial Command Dragon/Human Baku/Draguner
6
12 %
Mega Command Dragon
1
2 %
Mega Command Dragon/Revolutionary
2
4 %
Red Command Dragon/Hunter
2
4 %

---

Distribution by Rarity
Common
25
50 %
Double Victory
2
4 %
No Rarity
9
18 %
Promotional
1
2 %
Rare
2
4 %
Super Rare
3
6 %
Uncommon
4
8 %
Victory Rare
4
8 %

---

Distribution by Type
Creature
24
48 %
Dragheart Creature
8
16 %
Dragheart Fortress
2
4 %
Evolution Creature
2
4 %
Spell
14
28 %

---
Rating
Current score for this Deck, based on 6 votes:
3.50
Discussion about this Deck

Add your comments
Author
Message
monkeyking25


LV26





Member since
October 19, 2011

Subject: Why oh why Posted: July 19, 2012 04:10 am

---

"Bolbalzak X" is limited as of August 11th, 2012, its "Bombazar, Dragon of Destiny" all over again. So sad

Back to top
yournightmare


LV21





Member since
December 2, 2012

Subject: Subject Posted: March 21, 2013 05:58 am

---

Add Faerie's Gifts and Genji Doublecross Blastgrounds

Back to top
eli_wolffe




Subject: Posted: April 25, 2014 08:02 am

---

You might want to experiment some more without Mystery Cube..in that it actually slows the deck a bit..Try including Balga Raizer.
Instead of Totto,add Chitta Peloru,which would dramatically help with Jackpot Batoriser (Get my pun ?)

Back to top
Add your comments