Deck "Midnight Dragons"
Deck "Midnight Dragons"
Format: OCG - 40 Cards
created by monkeyking25

LV9
Can I build this deck?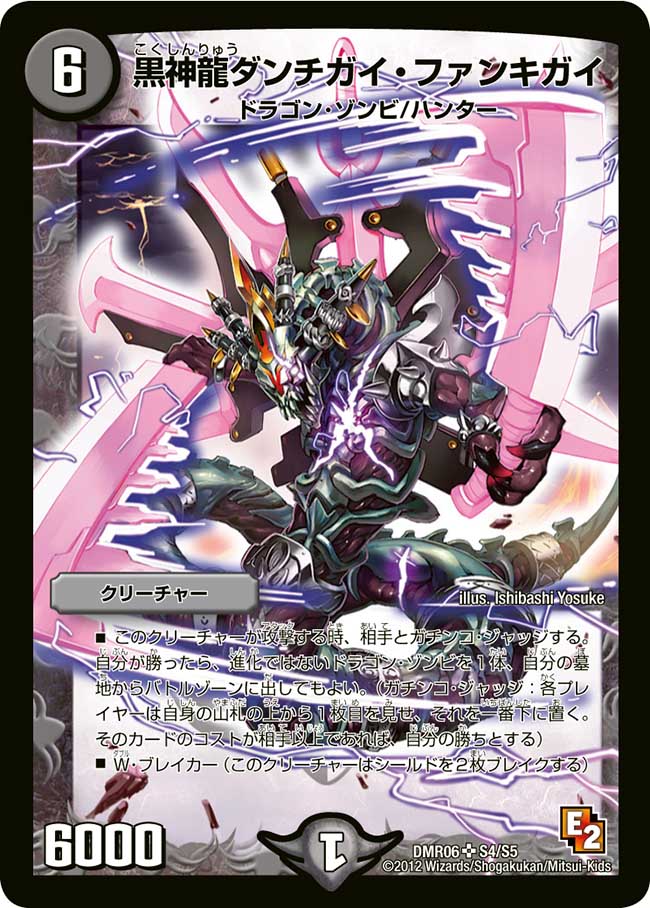 I'm usually build a Darkness civilization deck that focusing on the Demons Commanders, so this is my attempt at building a deck that focuses on the Dragons of the Darkness civilization.
Please rate and comment so I can improve this deck!
Section: Main Deck (40 cards)
4
x
Cocco Lupia (DMD-07)

Collector Number: 15
Rarity: Common
Type: Creature
Race: Fire Bird
Power: 1000
Mana Number: 1
Cost: 3
Civilization: Fire
Artist: Akifumi Yamamoto

Card text:

* Your creatures that have Dragon in their race each cost 2 less to summon. (Dragonoids don't count.) They can't cost less than 2.

1
x
Codename Yabasgil Skill (DMR-05)

Collector Number: S6
Rarity: Super Rare
Type: Creature
Race: Zombie Dragon/Unknown
Power: 8000
Mana Number: 1
Cost: 8
Civilization: Darkness
Artist: Daisuke Izuka

Card text:

* When you put this creature into the battle zone, or when this creature attacks, you may return a Zombie Dragon or a creature with cost 7 or more from your graveyard to your hand. If you do, destroy one of your opponent's creatures with cost 6 or less.


* Double breaker (This creature breaks 2 shields.)

3
x
Death Gate, Gate of Hell (P-Y10)

Collector Number: P26-Y10
Rarity: Rare
Type: Spell
Cost: 6
Civilization: Darkness
Artist: Sansyu

Card text:

Shield trigger (When this spell is put into your hand from your shield zone, you may cast it for no cost.)



* Destroy one of your opponent's untapped creatures. You may put a non-evolution creature with a cost less than the destroyed creature into the battle zone from your graveyard.

2
x
Dragon Bone, Secret Wicked Dragon (DMR-06)

Collector Number: 13
Rarity: Rare
Type: Spell
Mana Number: 1
Cost: 7
Civilization: Darkness
Artist: Ishibashi Yosuke

Card text:

* Attack Chance: Zombie Dragon (When one of your Zombie Dragons attack, you may cast this spell for no cost.)


* Put a non-evolution Zombie Dragon creature from your graveyard into the battle zone.

3
x
Fire Pillar of the Spiritual Forest (DMR-02)

Collector Number: 45
Rarity: Common
Type: Spell
Cost: 5
Civilization: Fire
Artist: Katsuya

Card text:

Shield trigger (When this spell is put into your hand from your shield zone, you may cast it for no cost.)



* If you have a darkness or nature creature in the battle zone, destroy a creature with power 7000 or less. If not, destroy a creature with power 4000 or less.

2
x
Gaial Axel (DMD-07)

Collector Number: 4
Rarity: Common
Type: Creature
Race: Red Command Dragon/Hunter
Power: 6000
Mana Number: 1
Cost: 6
Civilization: Fire
Artist: Mikio Masuda

Card text:

* Your other Dragons in the battle zone gain "speed attacker".


* Double breaker (This creature breaks 2 shields.)

1
x
Infinity Dragon (DMX-09)

Collector Number: 18
Rarity: Rare
Type: Creature
Race: Armored Dragon
Power: 7000
Mana Number: 1
Cost: 7
Civilization: Fire
Artist: get

Card text:

* Whenever a Dragon you control would leave the battle zone, put the top card of your deck into your graveyard. If that card is a Dragon or Fire Bird, your Dragon stays in the battle zone.


* Double breaker (This creature breaks 2 shields.)

3
x
Necrodragon Abayo Shabayo (DMX-10)

Collector Number: 10
Rarity: Promotional
Type: Creature
Race: Zombie Dragon/Unnoise
Power: 4000
Mana Number: 1
Cost: 4
Civilization: Darkness

Card text:

* When you put this creature into the battle zone, you may destroy 1 of your creatures. If you do, your opponent chooses 1 of his creatures and destroys it.

2
x
Necrodragon Ballas Lance (DMD-07)

Collector Number: 18
Rarity: Common
Type: Creature
Race: Zombie Dragon/Unnoise
Power: 7000
Mana Number: 1
Cost: 6
Civilization: Darkness
Artist: Sato Masanori

Card text:

* When you put this creature into the battle zone, look at the top 3 cards of your deck. Choose 2 from it and put it into the graveyard.


* Double breaker (This creature breaks 2 shields.)

1
x
Necrodragon Danchigai Fankigai (DMR-06)

Collector Number: S4
Rarity: Super Rare
Type: Creature
Race: Zombie Dragon/Hunter
Power: 6000
Mana Number: 1
Cost: 6
Civilization: Darkness
Artist: Ishibashi Yosuke

Card text:

* When this creature attacks, you and your opponent play "Gachinko Judge". If you win, you may put one non-evolution Zombie Dragon from your graveyard into the battle zone.


(Gachinko Judge: Each player reveals the top card of their deck and puts it at the bottom of their deck. If your opponent's revealed card's cost is equal to or less than your revealed card's, you win)

* Double breaker (This creature breaks 2 shields.)

3
x
Necrodragon Guljeneraid (DMX-11)

Collector Number: 47
Rarity: Common
Type: Creature
Race: Zombie Dragon
Power: 6000
Mana Number: 1
Cost: 7
Civilization: Darkness
Artist: Masaki Hirooka

Card text:

* Whenever one of your Dragons other than Necrodragon Guljeneraid is destroyed, if this creature is in your graveyard, you may return this creature to the battle zone.


* Double breaker (This creature breaks 2 shields.)

3
x
Necrodragon Gyouten Kyoutei (DMR-07)

Collector Number: 27
Rarity: Uncommon
Type: Creature
Race: Zombie Dragon/Unnoise
Power: 4000
Mana Number: 1
Cost: 4
Civilization: Darkness
Artist: NAKAGAWA

Card text:

* Instead of having this creature attack, you may tap it to use its ability.


You may destroy the three creatures "Zekkoucho", "Necrodragon Gyouten Kyoutei" and "Necrodragon Saidesuka Gunmaster" in your battle zone. If you do, choose any number of zones from your deck, Graveyard or hand. From them, you may choose 1 "Truename Screaming Psycho" and put it into the Battle Zone. If you have searched your deck, shuffle it.


3
x
Necrodragon Saidesuka Gunmaster (DMR-07)

Collector Number: 45
Rarity: Common
Type: Creature
Race: Zombie Dragon/Unnoise
Power: 7000
Mana Number: 1
Cost: 5
Civilization: Darkness
Artist: Yuichi Maekawa

Card text:

Blocker (Whenever an opponent's creature attacks, you may tap this creature to stop the attack. Then the 2 creatures battle.)



* This creature can't attack.

2
x
Primal Scream (DMX-11)

Collector Number: 49
Rarity: Common
Type: Spell
Mana Number: 1
Cost: 4
Civilization: Darkness
Artist: hippo

Card text:

Shield trigger (When this spell is put into your hand from your shield zone, you may cast it for no cost.)



* Put the top 4 cards of your deck into your graveyard. Then, you may return 1 creature from your graveyard to your hand.

2
x
Super Necrodragon Abzo Dolba (EDoHC)

Collector Number: S3
Rarity: Super Rare
Type: Evolution Creature
Race: Zombie Dragon
Power: 11000+
Mana Number: 1
Cost: 6
Civilization: Darkness
Artist: Ittoku

Card text:

Evolution-Put on one of your creatures that has Dragon in its race.
This creature gets +2000 power for each creature in your graveyard.
Triple breaker (This creature breaks 3 shields.)

The Dragons rose. Hopes fell.

1
x
Truename Screaming Psycho (DMR-07)

Collector Number: 3
Rarity: Very Rare
Type: Creature
Race: Zombie Dragon/Unknown
Power: 11000
Mana Number: 1
Cost: 9
Civilization: Darkness
Artist: ittoku

Card text:

Blocker


* When you put this creature into the battle zone, reveal the top 3 cards of your deck to both players. From among the revealed cards, add any number of Tristone and Zombie Dragon to your hand. For each card added, your opponent chooses one of his creatures and destroys it. Put the rest of the cards at the bottom of your deck in any order.

* Slayer

* Double breaker

3
x
Zekkoucho (DMR-07)

Collector Number: 47
Rarity: Common
Type: Creature
Race: Tristone
Power: 1000
Mana Number: 1
Cost: 3
Civilization: Darkness
Artist: Naoki Saito

Card text:

* Slayer (Whenever this creature battles, destroy the other creature after the battle.)


* When this creature is destroyed, you may return a Zombie Dragon from your graveyard to your hand.

1
x
‹berdragon Bajula (EDoHC)

Collector Number: S4
Rarity: Super Rare
Type: Evolution Creature
Race: Armored Dragon
Power: 13000
Mana Number: 1
Cost: 7
Civilization: Fire
Artist: Seki

Card text:

Evolution-Put on one of your creatures that has Dragon in its race.
Whenever this creature attacks, choose up to 2 cards in your opponent's mana zone. Your opponent puts those cards into his graveyard.
Triple breaker (This creature breaks 3 shields.)
Deck Statistics
Distribution by Civilization
Darkness
29
73 %
Fire
11
28 %

---

Distribution by Cost
3
7
18 %
4
8
20 %
5
6
15 %
6
10
25 %
7
7
18 %
8
1
3 %
9
1
3 %

---

Distribution by Power
-
10
25 %
1000
7
18 %
11000
1
3 %
11000+
2
5 %
13000
1
3 %
4000
6
15 %
6000
6
15 %
7000
6
15 %
8000
1
3 %

---

Distribution by Race
-
10
25 %
Armored Dragon
2
5 %
Fire Bird
4
10 %
Red Command Dragon/Hunter
2
5 %
Tristone
3
8 %
Zombie Dragon
5
13 %
Zombie Dragon/Hunter
1
3 %
Zombie Dragon/Unknown
2
5 %
Zombie Dragon/Unnoise
11
28 %

---

Distribution by Rarity
Common
22
55 %
Promotional
3
8 %
Rare
6
15 %
Super Rare
5
13 %
Uncommon
3
8 %
Very Rare
1
3 %

---

Distribution by Type
Creature
27
68 %
Evolution Creature
3
8 %
Spell
10
25 %

---
Rating
Current score for this Deck, based on 2 votes:
4.00