Deck "Demon Drama"
TIP
Browse other people's
trade binders
displaying the images of all the cards they are offering for trade.
Deck "Demon Drama"
Format: OCG - 40 Cards
created by monkeyking25

LV19
Can I build this deck?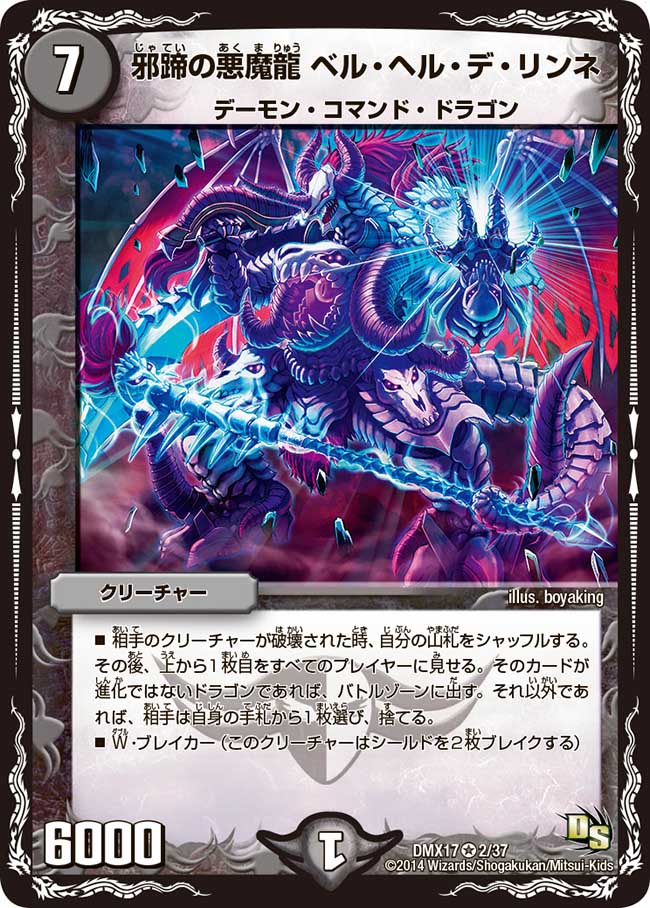 Please rate and comment so i can improve this deck!
If you Rate this Deck a 3 or Less, Please give a Reason!
Section: Main Deck (40 cards)
2
x
Basoabisu, Abyss Demon Dragon (DMX-18)

Collector Number: 12
Rarity: No Rarity
Type: Creature
Race: Demon Command Dragon
Power: 6000
Mana Number: 1
Cost: 6
Civilization: Darkness
Artist: So-Taro

Card text:

* When you put this creature into the battle zone, you may destroy one of your creatures. If you do, each of your opponent's creatures gets -3000 power until the end of the turn.


* Double breaker (This creature breaks 2 shields.)

3
x
Bell Hell De Linne, Footprint Demon Dragon (DMX-17)

Collector Number: 2
Rarity: Very Rare
Type: Creature
Race: Demon Command Dragon
Power: 6000
Mana Number: 1
Cost: 7
Civilization: Darkness
Artist: boyaking

Card text:

* Whenever one of your opponent's creatures is destroyed, shuffle your deck. Then reveal the top card of your deck. If it's a non-evolution Dragon, put it into the battle zone. If it's not, your opponent chooses and discards a card from his hand.


* Double breaker (This creature breaks 2 shields.)

4
x
BloodRayne, Start Dash (DMR-09)

Collector Number: 92
Rarity: Common
Type: Creature
Race: Outrage
Power: 1000
Mana Number: 1
Cost: 2
Civilization: Darkness
Artist: Tomohiro Hatasaki

Card text:

* Each turn, you may have the cost of the first Darkness creature you summon reduced by 1. It can't cost less than 1.

4
x
Bone Dance Charger (DMD-08)

Collector Number: 22
Rarity: Common
Type: Spell
Mana Number: 1
Cost: 3
Civilization: Darkness
Artist: Yuri Shinjuro

Card text:

* Put the top two cards of your deck into the graveyard.


* Charger (After you cast this spell, put it into your mana zone instead of your graveyard.)

4
x
Dark Lupia (1Dream)

Collector Number: 3D
Rarity: Very Rare
Type: Creature
Race: Fire Bird
Power: 1000
Mana Number: 1
Cost: 3
Civilization: Darkness
Artist: Syuichi Obata

Card text:

* When one of your creatures that has Dragon in its race is destroyed, you may destroy one of your opponent's creatures.

When the spirit of his friends dies out, he shows the power of his anguish.

2
x
Dead Ryusei, Eternal Demon Dragon (DMR-13)

Collector Number: S3
Rarity: Super Rare
Type: Creature
Race: Demon Command Dragon
Power: 8000
Mana Number: 1
Cost: 8
Civilization: Darkness
Artist: Yuukoo009

Card text:

* When you put this creature into the battle zone, destroy one of your opponent's creatures.


* Double breaker (This creature breaks 2 shields.)

* When this creature or another creature is destroyed, you may draw a card.

3
x
Death Gate, Gate of Hell (P-Y10)

Collector Number: P26-Y10
Rarity: Rare
Type: Spell
Cost: 6
Civilization: Darkness
Artist: Sansyu

Card text:

Shield trigger (When this spell is put into your hand from your shield zone, you may cast it for no cost.)



* Destroy one of your opponent's untapped creatures. You may put a non-evolution creature with a cost less than the destroyed creature into the battle zone from your graveyard.

4
x
Demon Wolf, Howling Moonlight Castle (DMR-13)

Collector Number: 28
Rarity: Rare
Type: Spell
Mana Number: 1
Cost: 5
Civilization: Darkness
Artist: Kutay

Card text:

Shield trigger (When this spell is put into your hand from your shield zone, you may cast it immediately for no cost.)



* Choose one of your opponent's creatures in the battle zone. That creature gets -3000 power until the end of the turn. (A creature that has power 0 or less is destroyed.)

* Mana Arms 5 -If you have 5 or more darkness cards in your mana zone, destroy one of your opponent's creatures.

2
x
Destrokill, Tyrant Demon Dragon (DMR-14)

Collector Number: S3
Rarity: Super Rare
Type: Creature
Race: Demon Command Dragon
Power: 12000
Mana Number: 1
Cost: 9
Civilization: Darkness
Artist: Mikio Masuda

Card text:

* When you put this creature into the battle zone or whenever it attacks, you may return a darkness creature from your graveyard to your hand. If you do, destroy one of your opponent's creatures.


* Triple breaker

* When this creature would leave the battle zone, if you have no other creatures in the battle zone, you may discard 2 creatures from your hand instead.

1
x
Heavy, Dragon God (DMC-55)

Collector Number: 4
Rarity: Super Rare
Type: Creature
Race: God/Zombie Dragon
Power: 5000+
Cost: 5
Civilization: Darkness
Artist: Toshiaki Takayama

Card text:

When this creature is put into the battle zone, you may destroy 1 of your creatures. If you do, draw a card and your opponent chooses one of his creatures and destroys it.
God Link Death, Destruction God or Metal, Dragon God Left Side
While this creature is linked, all of your opponent's creatures must attack this creature if possible.

1
x
Inferno Sign (DMD-10)

Collector Number: 11
Rarity: Rare
Type: Spell
Mana Number: 1
Cost: 5
Civilization: Darkness
Artist: Toshiaki Takayama

Card text:

Shield trigger (When this spell is put into your hand from your shield zone, you may cast it immediately for no cost.)



* Put one of your non-evolution creatures with a cost of 7 or less from your graveyard into the battle zone.

4
x
Necrodragon Abayo Shabayo (DMX-10)

Collector Number: 10
Rarity: Promotional
Type: Creature
Race: Zombie Dragon/Unnoise
Power: 4000
Mana Number: 1
Cost: 4
Civilization: Darkness

Card text:

* When you put this creature into the battle zone, you may destroy 1 of your creatures. If you do, your opponent chooses 1 of his creatures and destroys it.

2
x
Necrodragon Odol Needle (DMX-14)

Collector Number: 71
Rarity: Common
Type: Creature
Race: Zombie Dragon
Power: 5000
Mana Number: 1
Cost: 6
Civilization: Darkness
Artist: Hisanobu Kometani

Card text:

Shield trigger (When this creature is put into your hand from your shield zone, you may summon it immediately for no cost.)



* This creature is put into the battle zone tapped.

* When your opponents creatures attack, they attack this creature if possible.

* When this creature battles, after the battle, destroy the opponents creature and this creature.

2
x
Tsumitobatsu, Misfortune Hero (DMR-13)

Collector Number: 5
Rarity: Very Rare
Type: Creature
Race: Demon Command Dragon
Power: 7000
Mana Number: 1
Cost: 7
Civilization: Darkness
Artist: Kutay

Card text:

* Mana Arms 7 - When you put this creature into the battle zone, if you have 7 or more darkness cards in your mana zone, each of your opponent's creatures in the battle zone gets -7000 power until the end of the turn.


* Double breaker (This creature breaks 2 shields.)

2
x
Urami Hades, Curse Hero (DMD-19)

Collector Number: 6
Rarity: No Rarity
Type: Creature
Race: Demon Command Dragon
Power: 7000
Mana Number: 1
Cost: 7
Civilization: Darkness
Artist: YOICHI ITO

Card text:

* Mana Arms 7 - When you put this creature into the battle zone, if you have 7 or more darkness cards in your mana zone, put a non-evolution creature other than Urami Hades, Curse Hero from your graveyard into the battle zone..


* Double breaker
Deck Statistics
Distribution by Civilization
Darkness
40
100 %

---

Distribution by Cost
2
4
10 %
3
8
20 %
4
4
10 %
5
6
15 %
6
7
18 %
7
7
18 %
8
2
5 %
9
2
5 %

---

Distribution by Power
-
12
30 %
1000
8
20 %
12000
2
5 %
4000
4
10 %
5000
2
5 %
5000+
1
3 %
6000
5
13 %
7000
4
10 %
8000
2
5 %

---

Distribution by Race
-
12
30 %
Demon Command Dragon
13
33 %
Fire Bird
4
10 %
God/Zombie Dragon
1
3 %
Outrage
4
10 %
Zombie Dragon
2
5 %
Zombie Dragon/Unnoise
4
10 %

---

Distribution by Rarity
Common
10
25 %
No Rarity
4
10 %
Promotional
4
10 %
Rare
8
20 %
Super Rare
5
13 %
Very Rare
9
23 %

---

Distribution by Type
Creature
28
70 %
Spell
12
30 %

---
Rating
Current score for this Deck, based on 2 votes:
4.00