Deck "What?"
TIP
Browse other people's
trade binders
displaying the images of all the cards they are offering for trade.
extended display
Deck "What?"
Format: OCG - 50 Cards
created by kittwolf
Can I build this deck?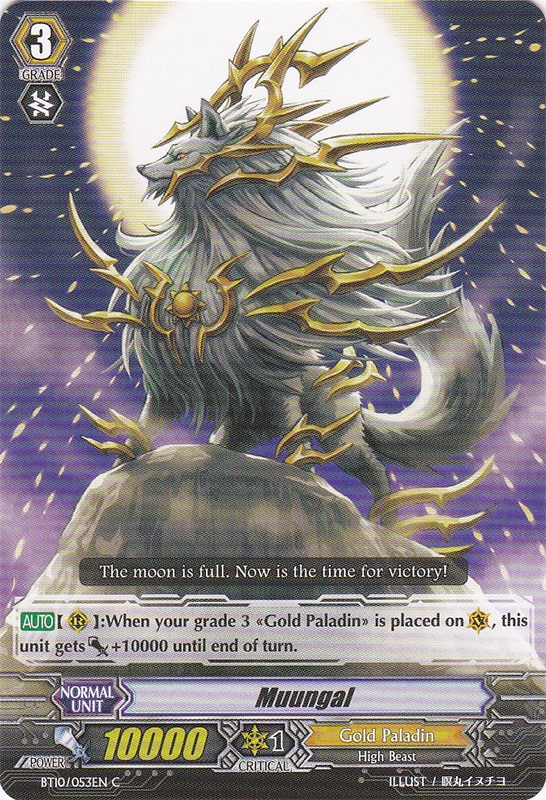 Card's Text:
"The moon is full. It's time to win!"

[AUTO](RC):When your grade 3 «Gold Paladin» is placed on (VC), this unit gets [Power]+10000 until the end of turn.


"The Full Moon is out, that is my victory calling me to win! No Vanguard can stand up to this power!"
Clan: Gold Paladin (50 cards)
Card
Set
Number
Type
Rarity
1
x
Blazing Lion, Platina Ezel
BT09
BT09-006
Gold Paladin
RRR
2
x
Boulder Smashing Knight, Segwarides
BT10
BT10-055
Gold Paladin
C
3
x
Dantegal
BT09
BT09-095
Gold Paladin
C
4
x
Elixir Sommelier
TD05
TD05-018
Gold Paladin
Fixed
2
x
Greeting Drummer
VG-BT06
BT06-086
Gold Paladin
C
2
x
Halo Shield, Mark
BT09
BT09-014
Gold Paladin
RR
3
x
Holy Mage of the Gale
BT09
BT09-093
Gold Paladin
C
2
x
Incandescent Lion, Blond Ezel
VG-BT06
BT06-004
Gold Paladin
RRR
3
x
Knight of Elegant Skills, Gareth
TD05
TD05-008
Gold Paladin
Fixed
3
x
Knight of Superior Skills, Beaumains
TD05
TD05-004
Gold Paladin
Fixed
3
x
Little Battler, Tron
VG-BT06
BT06-084
Gold Paladin
C
1
x
Little Fighter, Cron
VG-BT06
BT06-085
Gold Paladin
C
2
x
Mage of Calamity, Tripp
VG-BT06
BT06-033
Gold Paladin
R
2
x
Master of Pain
BT07
BT07-097
Gold Paladin
C
3
x
Muungal
BT10
BT10-053
Gold Paladin
C
2
x
Player of the Holy Bow, Viviane
VG-BT06
BT06-005
Gold Paladin
RRR
2
x
Runebau
BT09
BT09-096
Gold Paladin
C
2
x
Silent Punisher
TD05
TD05-015
Gold Paladin
Fixed
3
x
Solitary Liberator, Gancelot
TD08
TD08-001
Gold Paladin
Fixed
3
x
Speeder Hound
BT07
BT07-099
Gold Paladin
C
2
x
Sword Formation Liberator, Igraine
BT14
BT14-012
Gold Paladin
RR
Deck Statistics
Distribution by Clan
Gold Paladin
50
100 %

---

Distribution by Grade / Skill
Grade 0 / Boost
17
34 %
Grade 1 / Boost
13
26 %
Grade 2 / Intercept
11
22 %
Grade 3 / Twin Drive!!
9
18 %

---

Distribution by Nation
United Sanctuary
50
100 %

---

Distribution by Power
10000
8
16 %
11000
4
8 %
4000
4
8 %
5000
12
24 %
6000
11
22 %
8000
7
14 %
9000
4
8 %

---

Distribution by Race
Angel
2
4 %
Demon
2
4 %
Elf
11
22 %
Giant
5
10 %
High Beast
14
28 %
Human
16
32 %

---

Distribution by Rarity
C
24
48 %
Fixed
15
30 %
R
2
4 %
RR
4
8 %
RRR
5
10 %

---

Distribution by Shield
-
9
18 %
-
4
8 %
10000
13
26 %
5000
24
48 %

---

Distribution by Trigger
-
10
20 %
Critical +5000 Power
5
10 %
Draw +5000 Power
3
6 %
Heal +5000 Power
4
8 %
None
24
48 %
Stand +5000 Power
4
8 %

---
Rating
Current score for this Deck, based on 4 votes:
2.75
Discussion about this Deck

Add your comments
Author
Message
greatnature55




Subject: Comments Posted: September 24, 2012 08:10 pm

---

Looks more dog than wolf to me. Anyway why dont you try putting in Sleygal dagger in your deck. It is a decent booster for GP.

Back to top
rinings




Subject: Posted: September 24, 2012 08:21 pm

---

So it is just the trial deck? Try making it more of your own deck.

Back to top
kittwolf




Subject: Posted: September 24, 2012 10:22 pm

---

sorry this deck is my first 50 cards i got

Back to top
fujiwara_ayumu




Subject: GREAT DECK Posted: October 6, 2013 11:10 am

---

great deck ....wish you a good luck

Back to top
Add your comments