Deck "Gardians Of The Sanctuary"
extended display
Deck "Gardians Of The Sanctuary"
Format: OCG - 50 Cards
created by asakura

LV5
Can I build this deck?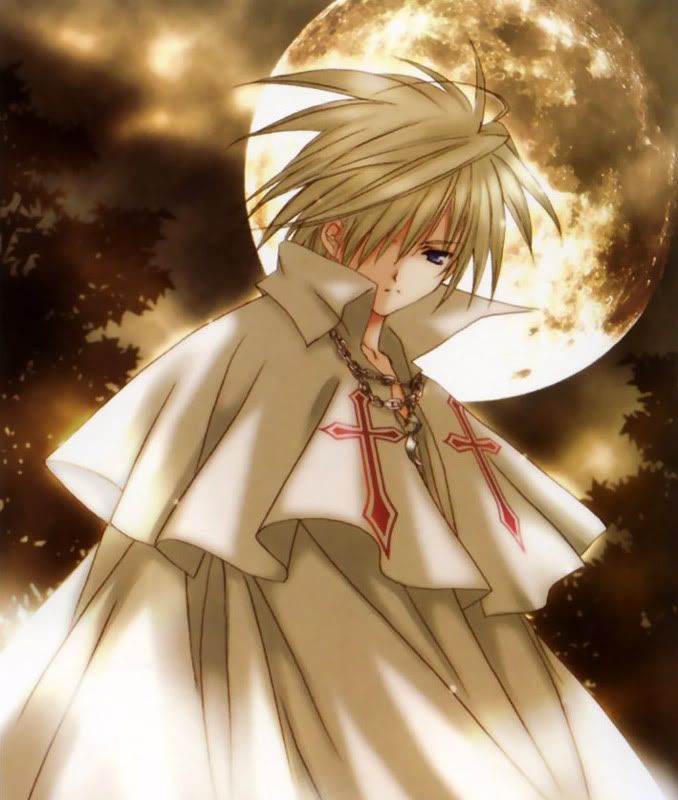 The guardian Dragon who helped to build the Grand Sanctuary, a land where human and dragons used to live together, side by side. He was the "White Dragon King" written of in legend. He was a rare enlightened monarch supported by many people, having reigned so long that almost no one can compare in the annals of history. However, after a thousand years since he ascended to the throne, there was an ambitious child born from the Dragon Tribe who pushed his kingdom towards collapse. The relationship between the humans and dragons quickly disintegrated, leading to a civil war, splitting the country in two. The dragon tribes and a sparing group of humans that were good at fighting took most of the land, but the remaining people of the Sanctuary, disinterested in fighting, retreated to the West. He risked his life over and over to save the Sanctuary and its people, but in the end it cost him his body, knowing this, the next generation of Guardian Dragons, his descendants, were entrusted with his power and his blade. The soul of the virtuous ruler, The White Dragon King, will never be destroyed. As long as his blood and his will are carried down.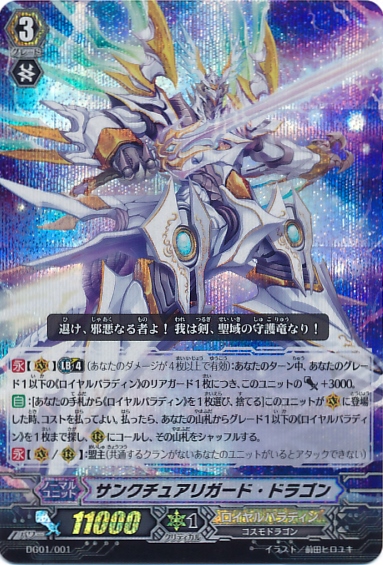 quote:
Begone, evil! I am the sword, the guardian dragon of this sanctuary!
A knight whose clan is blessed by the holy guardian dragon, Soul Saver Dragon. Because there is practically no record of him appearing in lore or history books, his very existence is in doubt, and he is considered to be just a myth or legend. It is said he dwells deep within the ruins of United Sanctuary , protecting the gates to the other realm where his patron dragon dwells, and has done so for countless generations. When the guardian dragon spirit became anxious and concerned about the current state of Sanctuary, it decided to give aid to the Royal Paladins, sending Pendragon, who didn't hesitate for a second to join under the fold of the King of Knights, vowing to fight by the king's side. The power of the White Dragon King is handed down and controlled by both humans and dragons, Pendragon now holds both the ancient king's sword and that legendary power, having inherited them, and uses them to destroy all who would do nothing but bring harm and ruin.
quote:
The sanctuary's history has been protected by those with powers of the sacred dragon.
When the sacred king risked his life to fight, the sacred dragon always came to his aid.
Clan: Royal Paladin (50 cards)
Card
Set
Number
Type
Rarity
3
x
Battle Flag Knight, Constance
DG01
DG01-006
Royal Paladin
C
4
x
Bringer of Good Luck, Epona
DG01
DG01-014
Royal Paladin
C
2
x
Delicate Knight, Clowdine
BT10
BT10-045
Royal Paladin
C
3
x
Flash Shield, Iseult
VG-BT01
BT01-011
Royal Paladin
RR
3
x
High Dog Breeder, Akane
VG-BT02
BT02-029
Royal Paladin
R
2
x
High Dog Breeder, Seiran
Promos
PR-0016EN
Royal Paladin
Promo
2
x
Knight of Determination, Lamorak
EB03
EB03-033
Royal Paladin
C
2
x
Little Sage, Marron
VG-BT01
BT01-042
Royal Paladin
C
4
x
Margal
VG-BT02
BT02-059
Royal Paladin
C
3
x
Pure Heart Jewel Knight, Ashley
BT10
BT10-001
Royal Paladin
RRR
2
x
Rainbow Calling Bard
DG01
DG01-012
Royal Paladin
C
3
x
Rendgal
DG01
DG01-011
Royal Paladin
C
3
x
Sanctuary Guard Dragon
DG01
DG01-001
Royal Paladin
C
4
x
Silent Sage, Sharon
BT05
BT05-063
Royal Paladin
C
1
x
Starting Legend, Ambrosius
DG01
DG01-013
Royal Paladin
C
2
x
Sword of Hope, Richard
Promos
PR-0139
Royal Paladin
Promo
3
x
White Dragon Knight, Pendragon
EB03
EB03-005
Royal Paladin
RR
4
x
Yggdrasil Maiden, Elaine
VG-BT01
BT01-047
Royal Paladin
C
Deck Statistics
Distribution by Clan
Royal Paladin
50
100 %

---

Distribution by Grade / Skill
Grade 0 / Boost
17
34 %
Grade 1 / Boost
12
24 %
Grade 2 / Intercept
12
24 %
Grade 3 / Twin Drive!!
9
18 %

---

Distribution by Nation
United Sanctuary
50
100 %

---

Distribution by Power
10000
5
10 %
11000
6
12 %
4000
9
18 %
5000
8
16 %
6000
7
14 %
7000
3
6 %
8000
9
18 %
9000
3
6 %

---

Distribution by Race
Cosmo Dragon
3
6 %
Elf
9
18 %
Giant
6
12 %
High Beast
7
14 %
Human
21
42 %
Sylph
4
8 %

---

Distribution by Rarity
C
34
68 %
Promo
4
8 %
R
3
6 %
RR
6
12 %
RRR
3
6 %

---

Distribution by Shield
-
9
18 %
-
3
6 %
10000
13
26 %
5000
25
50 %

---

Distribution by Trigger
Critical +5000 Power
4
11 %
None
31
89 %

---
Rating
Current score for this Deck, based on 1 vote:
5.00