Deck "GO.PP [Imposter Alfred]"
TIP
Browse other people's
trade binders
displaying the images of all the cards they are offering for trade.
extended display
Deck "GO.PP [Imposter Alfred]"
Format: OCG - 50 Cards
created by senova
Can I build this deck?
quote: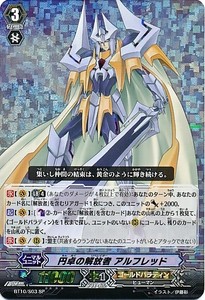 quote:
Why Spring Breeze is better than Wingal Liberator:
1. Call from top 3.
2. Wingal Liberator needs Blaster Blade in soul.
3. Needs to hit and an empty rearguard circle, for 9k attacker and 2 counter blast for retire.
4. Needs to run Blaster Blade to make effect which takes up Grade 2 space.
5. Messenger makes room for Escrad, Farron and Gallatin.
Clan: Gold Paladin (50 cards)
Card
Set
Number
Type
Rarity
Average price
4
x
Armed Liberator, Gwydion
TD08
TD08-015
Gold Paladin
Fixed
4
x
Elixir Liberator
TD08
TD08-017
Gold Paladin
Fixed
3
x
Fast Chase Liberator, Josephus
BT10
BT10-025
Gold Paladin
R
1
x
Flogal Liberator
BT10
BT10-060
Gold Paladin
C
1
x
Fortune Liberator
TD08
TD08-016
Gold Paladin
Fixed
3
x
Future Liberator, Llew
TD08
TD08-012
Gold Paladin
Fixed
4
x
Halo Liberator, Mark
BT10
BT10-011
Gold Paladin
RR
4
x
Liberator of Hope, Epona
BT10
BT10-059
Gold Paladin
C
4
x
Liberator of Royalty, Phallon
TD08
TD08-005
Gold Paladin
Fixed
4
x
Liberator of Silence, Gallatin
TD08
TD08-004
Gold Paladin
Fixed
3
x
Liberator of the Flute, Escrad
BT10
BT10-012
Gold Paladin
RR
4
x
Liberator of the Round Table, Alfred
BT10
BT10-003
Gold Paladin
RRR
4
x
Little Liberator, Marron
TD08
TD08-010
Gold Paladin
Fixed
4
x
Solitary Liberator, Gancelot
TD08
TD08-001
Gold Paladin
Fixed
1
x
Spring Breeze Messenger
BT07
BT07-042
Gold Paladin
R
2
x
Strike Liberator
TD08
TD08-014
Gold Paladin
Fixed
Total price for the deck:
Deck Statistics
Distribution by Clan
Gold Paladin
50
100 %

---

Distribution by Grade / Skill
Grade 0 / Boost
17
34 %
Grade 1 / Boost
14
28 %
Grade 2 / Intercept
11
22 %
Grade 3 / Twin Drive!!
8
16 %

---

Distribution by Nation
United Sanctuary
50
100 %

---

Distribution by Power
10000
4
8 %
11000
8
16 %
5000
17
34 %
6000
7
14 %
7000
7
14 %
9000
7
14 %

---

Distribution by Race
Elf
8
16 %
Giant
8
16 %
Gnome
4
8 %
High Beast
1
2 %
Human
24
48 %
Sylph
5
10 %

---

Distribution by Rarity
C
5
10 %
Fixed
30
60 %
R
4
8 %
RR
7
14 %
RRR
4
8 %

---

Distribution by Shield
-
8
16 %
-
4
8 %
10000
13
26 %
5000
25
50 %

---

Distribution by Trigger
+5000 Power
16
32 %
None
34
68 %

---
Rating
Current score for this Deck, based on 4 votes:
4.25