Deck "heaven's celestial legion."
TIP
Use your personal web page. Send your address (see it in
'your profile'
) to your pals and to the trading forums so that everyone can see your updated lists and offer you trades.
extended display
Deck "heaven's celestial legion."
Format: OCG - 50 Cards
created by niladri96
Can I build this deck?
A celestial themed-deck with cards from booster pack 11 and otherwise too.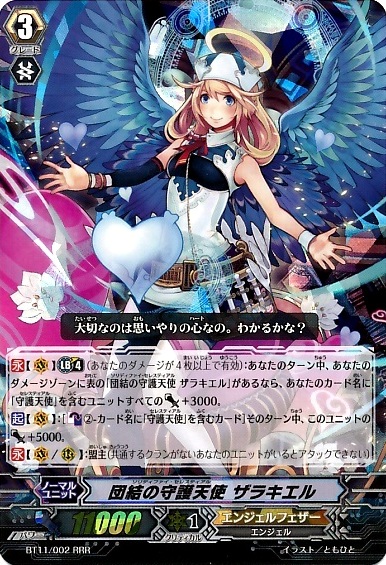 use remiels skill to breakride zerachiel and use sariel's skill to put a zerachiel to damage zone....and the non-celestial cards are NECESSARY. nociels are there to swap my hand with damage. the 6 draw 6 crit is a winning combo as compared to stand triggers as they give me hand advantage.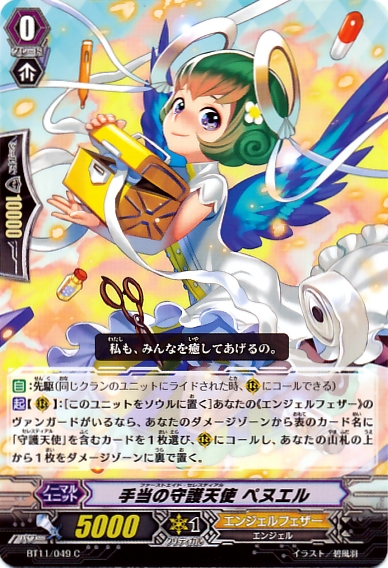 Clan: Angel Feather (50 cards)
Card
Set
Number
Type
Rarity
Average price
4
x
Adamantine Celestial, Aniel
BT11
BT11-009
Angel Feather
RR
1
x
Battle Cupid, Nociel
VG-BT06
BT06-002
Angel Feather
RRR
3
x
Candle Celestial, Sariel
BT11
BT11-025
Angel Feather
R
4
x
Celestial, Landing Pegasus
BT11
BT11-052
Angel Feather
C
2
x
Critical Hit Angel
VG-BT06
BT06-058
Angel Feather
C
3
x
Essence Celestial, Becca
BT11
BT11-023
Angel Feather
R
3
x
Fever Therapy Nurse
BT09
BT09-083
Angel Feather
C
1
x
First Aid Celestial, Peniel
BT11
BT11-049
Angel Feather
C
3
x
Hot Shot Celestial, Samyaza
BT11
BT11-051
Angel Feather
C
3
x
Love Machine Gun, Nociel
VG-BT06
BT06-011
Angel Feather
RR
3
x
Marking Celestial, Arabhaki
BT11
BT11-046
Angel Feather
C
2
x
Order Celestial, Yeqon
BT11
BT11-047
Angel Feather
C
4
x
Prophecy Celestial, Ramiel
BT11
BT11-001
Angel Feather
RRR
4
x
Recovery Celestial, Ramuel
BT11
BT11-054
Angel Feather
C
4
x
Solidify Celestial, Zerachiel
BT11
BT11-002
Angel Feather
RRR
3
x
Underlay Celestial, Hesediel
BT11
BT11-026
Angel Feather
R
3
x
Wild Shot Celestial, Raguel
BT11
BT11-024
Angel Feather
R
Total price for the deck:
Deck Statistics
Distribution by Clan
Angel Feather
50
100 %

---

Distribution by Grade / Skill
Grade 0 /
12
24 %
Grade 0 / Boost
5
10 %
Grade 1 /
12
24 %
Grade 1 / Boost
1
2 %
Grade 2 /
9
18 %
Grade 2 / Intercept
3
6 %
Grade 3 /
8
16 %

---

Distribution by Nation
United Sanctuary
50
100 %

---

Distribution by Power
10000
3
6 %
11000
8
16 %
4000
5
10 %
5000
12
24 %
6000
8
16 %
7000
5
10 %
8000
6
12 %
9000
3
6 %

---

Distribution by Race
Angel
46
92 %
High Beast
4
8 %

---

Distribution by Rarity
C
22
44 %
R
12
24 %
RR
7
14 %
RRR
9
18 %

---

Distribution by Shield
-
14
28 %
-
4
8 %
10000
10
20 %
5000
22
44 %

---

Distribution by Trigger
-
4
8 %
+5000 Power
11
22 %
Critical +5000 Power
2
4 %
Draw +5000 Power
3
6 %
None
30
60 %

---
Rating
Current score for this Deck, based on 44 votes:
4.16
Discussion about this Deck

Add your comments
Author
Message
niladri96




Subject: Posted: May 4, 2013 10:50 am

---

hi everyone. This is my main deck so can anyone offer any further suggestions??

Back to top
maxroy24


LV5





Member since
September 10, 2012

Subject: Posted: May 4, 2013 11:02 am

---

i like the deck just kinda wish it had more images on the cards.

Back to top
niladri96




Subject: Posted: May 4, 2013 11:09 am

---

yes true. me too. i am still waiting for the images to be released. It is really difficult without images.

Back to top
Add your comments