Deck "heaven's celestial legion."
TIP
Get paid for recommending TCO!
Use our
Affiliate Program
and earn money easily by just bringing subscribers to Trade Cards Online.
extended display
Deck "heaven's celestial legion."
Format: OCG - 50 Cards
created by niladri96
Can I build this deck?
A celestial themed-deck with cards from booster pack 11 and otherwise too.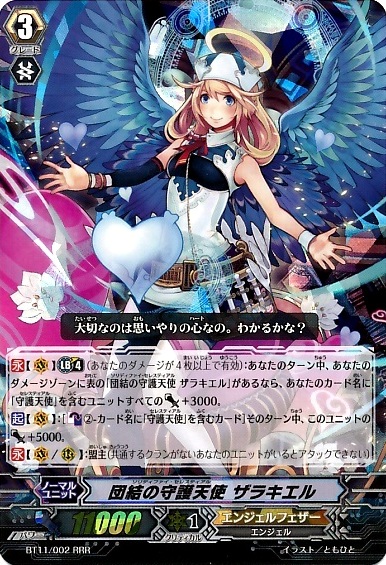 use remiels skill to breakride zerachiel and use sariel's skill to put a zerachiel to damage zone....and the non-celestial cards are NECESSARY. nociels are there to swap my hand with damage. the 6 draw 6 crit is a winning combo as compared to stand triggers as they give me hand advantage.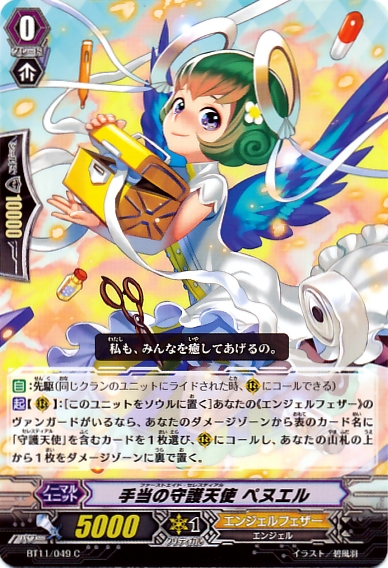 Clan: Angel Feather (50 cards)
Card
Set
Number
Type
Rarity
Average price
4
x
Adamantine Celestial, Aniel
BT11
BT11-009
Angel Feather
RR
1
x
Battle Cupid, Nociel
VG-BT06
BT06-002
Angel Feather
RRR
3
x
Candle Celestial, Sariel
BT11
BT11-025
Angel Feather
R
4
x
Celestial, Landing Pegasus
BT11
BT11-052
Angel Feather
C
2
x
Critical Hit Angel
VG-BT06
BT06-058
Angel Feather
C
3
x
Essence Celestial, Becca
BT11
BT11-023
Angel Feather
R
3
x
Fever Therapy Nurse
BT09
BT09-083
Angel Feather
C
1
x
First Aid Celestial, Peniel
BT11
BT11-049
Angel Feather
C
3
x
Hot Shot Celestial, Samyaza
BT11
BT11-051
Angel Feather
C
3
x
Love Machine Gun, Nociel
VG-BT06
BT06-011
Angel Feather
RR
3
x
Marking Celestial, Arabhaki
BT11
BT11-046
Angel Feather
C
2
x
Order Celestial, Yeqon
BT11
BT11-047
Angel Feather
C
4
x
Prophecy Celestial, Ramiel
BT11
BT11-001
Angel Feather
RRR
4
x
Recovery Celestial, Ramuel
BT11
BT11-054
Angel Feather
C
4
x
Solidify Celestial, Zerachiel
BT11
BT11-002
Angel Feather
RRR
3
x
Underlay Celestial, Hesediel
BT11
BT11-026
Angel Feather
R
3
x
Wild Shot Celestial, Raguel
BT11
BT11-024
Angel Feather
R
Total price for the deck:
Deck Statistics
Distribution by Clan
Angel Feather
50
100 %

---

Distribution by Grade / Skill
Grade 0 /
12
24 %
Grade 0 / Boost
5
10 %
Grade 1 /
12
24 %
Grade 1 / Boost
1
2 %
Grade 2 /
9
18 %
Grade 2 / Intercept
3
6 %
Grade 3 /
8
16 %

---

Distribution by Nation
United Sanctuary
50
100 %

---

Distribution by Power
10000
3
6 %
11000
8
16 %
4000
5
10 %
5000
12
24 %
6000
8
16 %
7000
5
10 %
8000
6
12 %
9000
3
6 %

---

Distribution by Race
Angel
46
92 %
High Beast
4
8 %

---

Distribution by Rarity
C
22
44 %
R
12
24 %
RR
7
14 %
RRR
9
18 %

---

Distribution by Shield
-
14
28 %
-
4
8 %
10000
10
20 %
5000
22
44 %

---

Distribution by Trigger
-
4
8 %
+5000 Power
11
22 %
Critical +5000 Power
2
4 %
Draw +5000 Power
3
6 %
None
30
60 %

---
Rating
Current score for this Deck, based on 44 votes:
4.16
Discussion about this Deck

Add your comments
Author
Message
niladri96




Subject: Posted: May 4, 2013 10:50 am

---

hi everyone. This is my main deck so can anyone offer any further suggestions??

Back to top
maxroy24


LV9





Member since
September 10, 2012

Subject: Posted: May 4, 2013 11:02 am

---

i like the deck just kinda wish it had more images on the cards.

Back to top
niladri96




Subject: Posted: May 4, 2013 11:09 am

---

yes true. me too. i am still waiting for the images to be released. It is really difficult without images.

Back to top
Add your comments