Deck "Great Nature:Leo-Pald's Return"
extended display
Deck "Great Nature:Leo-Pald's Return"
Format: OCG (Old format) - 50 Cards
created by xzkaixmarkzx
Can I build this deck?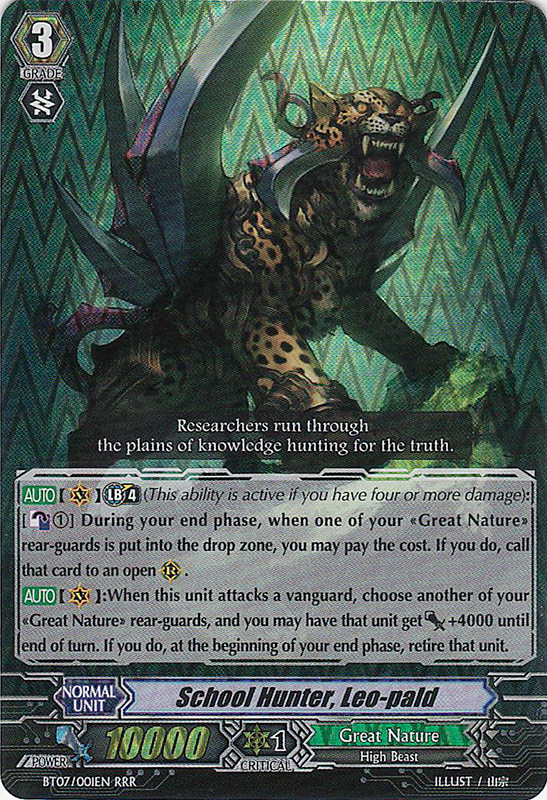 quote:
Although he is just a student of the University, he is the leader of the "Discipline Committee Enforcement Squad" that was formed to protect the safety of the Academy. As a young man, full of the ideal of Justice, he spends nearly all his time outside of lectures doing things for the Discipline Committee. The blades stretching from his body, are incredibly sharp and never break or bend, as if they were physical embodiments of his own will. Villains miserable enough to sneak onto the academy grounds will quickly be reminded of the unpleasant horrors of a "Hunter" who burns with Justice.
If you are rating this deck 4 or less please give a valid reason.
Please, Do not troll vote this deck.
This deck is the modified version of my previous Leo-Pald deck :
http://www.tradecardsonline.com/im/showDeck/deck_id/390043
I added "Ponga' to it so that you may get 12k attackers now
Deck Statistics
Distribution by Clan
Great Nature
50
100 %

---

Distribution by Grade / Skill
Grade 0 / Boost
17
34 %
Grade 1 / Boost
15
30 %
Grade 2 / Intercept
11
22 %
Grade 3 / Twin Drive!!
7
14 %

---

Distribution by Nation
Zoo
50
100 %

---

Distribution by Power
10000
11
22 %
11000
3
6 %
3000
4
8 %
5000
13
26 %
6000
8
16 %
7000
4
8 %
8000
3
6 %
9000
4
8 %

---

Distribution by Race
High Beast
50
100 %

---

Distribution by Rarity
C
20
40 %
Promo
2
4 %
R
14
28 %
RR
3
6 %
RRR
11
22 %

---

Distribution by Shield
-
14
28 %
-
3
6 %
10000
13
26 %
5000
20
40 %

---

Distribution by Trigger
Draw +5000 Power
4
11 %
Heal +5000 Power
4
11 %
None
27
77 %

---
Rating
Current score for this Deck, based on 18 votes:
4.83
Discussion about this Deck

Add your comments
Author
Message
xzkaixmarkzx




Subject: Please ! Posted: June 14, 2013 12:46 am

---

Please dont troll vote this deck, or please dont rate low by giving an invalid excuse

Back to top
kamui99




Subject: Posted: June 16, 2013 07:12 pm

---

You might want to change your draw triggers to the Pinata thingy. It is the soulcharge and give one unit +3k

Back to top
Add your comments