Deck "True Nothingness !"
TIP
Maintain your whole
card collection inventory
on this site. Together with your haves, you can also manage your private card collection and keep everything in a single place.
extended display
Deck "True Nothingness !"
Format: OCG - 50 Cards
created by misaki_04

LV8
Can I build this deck?
Dark purity from out of the darkness! Follow your destructive instincts and raise your voice of destruction to doomsday! Ride! Star-vader, Dark Zodiac!




Seek mate! Let terror spread! Swallow up all light and turn it into dark despair! Star-vader, Astro Reaper! Legion!




The timber of silence that resonates in darkness...Strike, dance of destruction that invites despair! I ride Star-vader, Venom Dancer!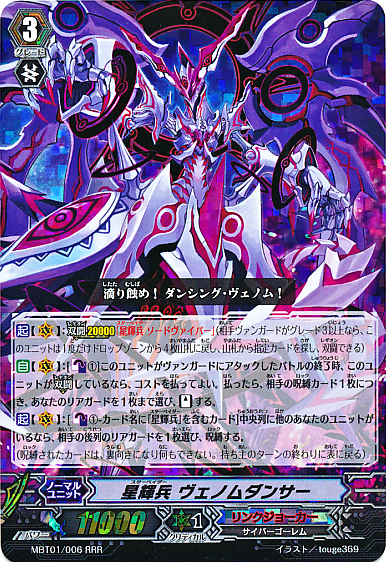 Seek mate! Sword of darkness that soundlessly slashes, return space and time to nothingness! Star-vader, Sword Viper! Legion!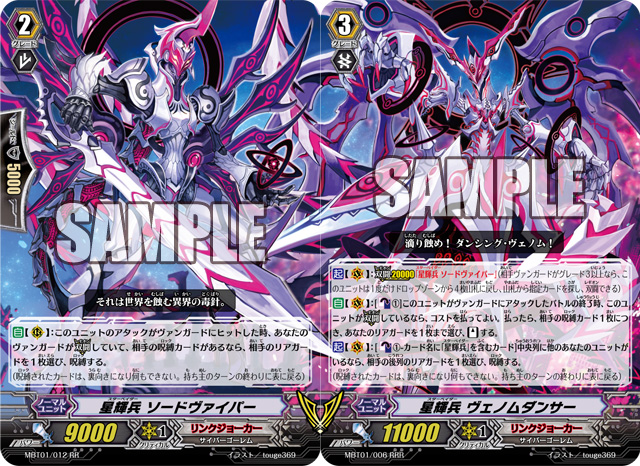 Clan: Link Joker (50 cards)
Card
Set
Number
Type
Rarity
Average price
4
x
Barrier Star-vader, Promethium
BT12
BT12-014
Link Joker
RR
4
x
Companion Star Star-vader, Photon
TD17
TD17-005
Link Joker
Fixed
3
x
Mana Shot Star-vader, Neon
TD17
TD17-011
Link Joker
Fixed
3
x
Prison Gate Star-vader, Palladium
BT13
BT13-081
Link Joker
C
4
x
Star-vader, Astro Reaper
BT17
BT17-033
Link Joker
R
3
x
Star-vader, Bolt Line
BT17
BT17-035
Link Joker
R
4
x
Star-vader, Dark Zodiac
BT17
BT17-007
Link Joker
RRR
1
x
Star-vader, Dust Tail Unicorn
Promos
PR-0138
Link Joker
Promo
4
x
Star-vader, Meteor Liger
TD11
TD11-014
Link Joker
Fixed
4
x
Star-vader, Nebula Captor
TD11
TD11-015
Link Joker
Fixed
4
x
Star-vader, Stellar Garage
TD11
TD11-017
Link Joker
Fixed
4
x
Star-vader, Sword Viper
MBT01
MBT01-012
Link Joker
RR
4
x
Star-vader, Venom Dancer
MBT01
MBT01-006
Link Joker
RRR
4
x
Star-vader, Weiss Soldat
BT12
BT12-072
Link Joker
C
Total price for the deck:
Deck Statistics
Distribution by Clan
Link Joker
50
100 %

---

Distribution by Grade / Skill
Grade 0 / Boost
17
34 %
Grade 1 / Boost
13
26 %
Grade 2 / Intercept
12
24 %
Grade 3 / Twin Drive!!
8
16 %

---

Distribution by Nation
Star Gate
50
100 %

---

Distribution by Power
11000
8
16 %
5000
17
34 %
6000
4
8 %
7000
9
18 %
9000
12
24 %

---

Distribution by Race
Cyber Beast
5
10 %
Cyber Fairy
11
22 %
Cyber Golem
20
40 %
Cyberoid
14
28 %

---

Distribution by Rarity
C
7
14 %
Fixed
19
38 %
Promo
1
2 %
R
7
14 %
RR
8
16 %
RRR
8
16 %

---

Distribution by Shield
-
9
18 %
-
4
8 %
10000
12
24 %
5000
25
50 %

---

Distribution by Trigger
Critical +5000 Power
8
16 %
Draw +5000 Power
4
8 %
Heal +5000 Power
4
8 %
None
34
68 %

---
Rating
Current score for this Deck, based on 10 votes:
4.20