Deck "Ballom Acceleration"
TIP
Browse your
collector binders online!
You can see your collection graphically as if you had your binders on the web, and you can sort them in different ways.
Deck "Ballom Acceleration"
Format: OCG - 40 Cards
created by monkeyking25

LV10
Can I build this deck?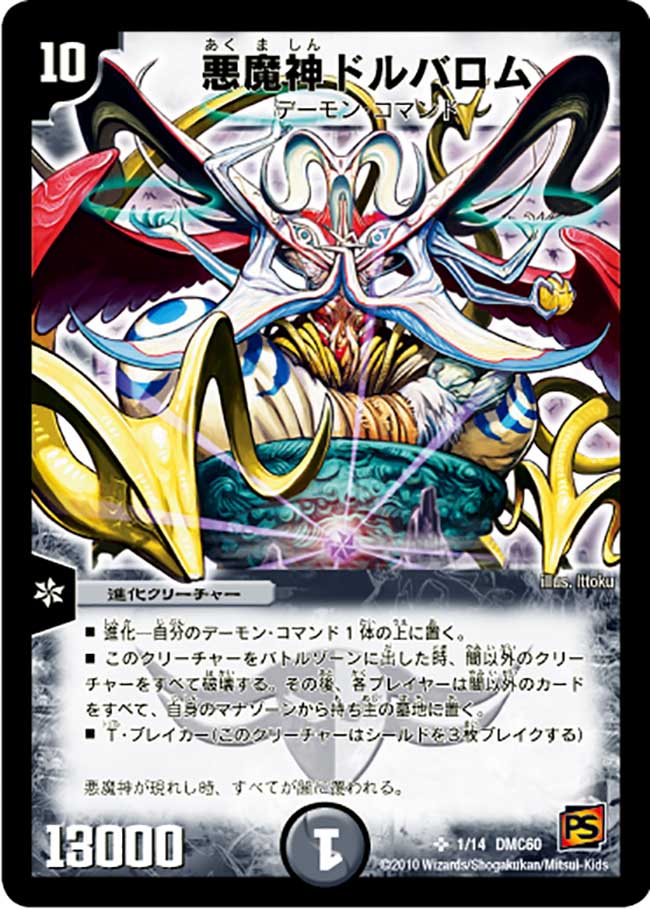 Dorballom is one of my favorite cards but it can be such a pain to summon without mana acceleration.
Please rate and comment so i can improve this deck!
Type: Creature (23 cards)
2
x
Bell Hell De Gaul, Footprint of the Reaper (DMC-60)

Collector Number: 3
Rarity: Super Rare
Type: Creature
Race: Demon Command
Power: 6000
Mana Number: 1
Cost: 7
Civilization: Darkness
Artist: Akira actagawa

Card text:

Whenever 1 of your opponent's creatures are destroyed, shuffle your deck. Then, reveal the top card of your deck. If that card is a non-evolution Demon Command put it into the battle zone. If not, put it into your hand.
Double Breaker

3
x
Bloody Squito (BS)

Collector Number: 46
Rarity: Common
Type: Creature
Race: Brain Jacker
Power: 4000
Mana Number: 1
Cost: 2
Civilization: Darkness
Artist: Atsushi Kawasaki

Card text:

Blocker (When an opponent's creature attacks, you may tap this creature to stop the attack. Then the two creatures battle.)
This creature can't attack.
When this creature wins a battle, destroy it.
Hear the roar of the mighty Earth!

3
x
Deathraios, Cursed Blade Reaper (DMC-60)

Collector Number: 8
Rarity: Uncommon
Type: Creature
Race: Demon Command
Power: 4000
Cost: 4
Civilization: Darkness
Artist: hippo

Card text:

When you put this creature into the battle zone, you may destroy 1 of your creatures with "Reaper" in its name. If you do, your opponent chooses 1 of their creatures and destroys it.

2
x
Gal Volf, Dark Wolfblade (LoH)

Collector Number: 27
Rarity: Uncommon
Type: Creature
Race: Demon Command
Power: 6000
Cost: 6
Civilization: Darkness
Artist: sansyu

Card text:

When you put this creature into the battle zone, choose 1 race, then look at your opponent's hand. You may choose 1 card with the chosen race from your opponent's hand. If you do, that player discards that card and chooses 1 of their shields and puts it in their graveyard.
Double Breaker

Strikes made by the possessed wolfblade mark the time for trembling at the world tournament.

3
x
Iron Arm Tribe (P-Y10)

Collector Number: P23-Y10
Rarity: Common
Type: Creature
Race: Beast Folk/Hunter
Power: 1000
Cost: 4
Civilization: Nature
Artist: kometani

Card text:

* When you put this creature into the battle zone, put the top card of your deck into your mana zone.


* When this creature is destroyed, put it into your mana zone instead of your graveyard.

3
x
Jasmine, Mist Faerie (DMX-12)

Collector Number: 36
Rarity: Common
Type: Creature
Race: Snow Faerie
Power: 1000
Mana Number: 1
Cost: 2
Civilization: Nature
Artist: Tanru

Card text:

* When you put this creature into your battle zone, you may destroy this creature. If you do, put the top card of your deck into the mana zone.

2
x
Olzekia, General of Decapitation (DMC-64)

Collector Number: 7
Rarity: Super Rare
Type: Creature
Race: Demon Command
Power: 6000
Mana Number: 1
Cost: 7
Civilization: Darkness
Artist: Masaki Hirooka

Card text:

* When this creature is put into the battle zone, destroy one of your creatures. Then, your opponent chooses 2 of their creatures and destroys them.


* Double breaker (This creature breaks 2 shields.)

Perish! Their bodies will be torn into pieces, their souls broken, and even their very existence erased! - Olzekia, General of Decapitation

3
x
Super Trash Train, Fuuma Devil (DMC-55)

Collector Number: 37
Rarity: Rare
Type: Creature
Race: Hedrian/Grand Devil
Power: 5000
Cost: 5
Civilization: Darkness
Artist: Akifumi Yamamoto

Card text:

Whenever another creature is destroyed, you may draw a card.

2
x
Zabi Olzekia, Demonic Sword General (DMX-05)

Collector Number: 6
Rarity: Rare
Type: Creature
Race: Demon Command/Alien
Power: 5000
Cost: 5
Civilization: Darkness

Card text:

* When you put this creature into the battle zone, destroy one of your creatures. Then, your opponent chooses 1 of their creatures and destroys them.

Type: Evolution Creature (5 cards)
2
x
Ballom Emperor, Lord of Demons (DMC-55)

Collector Number: 17
Rarity: Super Rare
Type: Evolution Creature
Race: Demon Command
Power: 9000
Mana Number: 1
Cost: 7
Civilization: Darkness
Artist: Ittoku

Card text:

Evolution - Put on one of your Demon Command
When you put this creature into the battle zone, destroy all creatures except darkness creatures.
Double Breaker

1
x
Ballom, Master of Death (DMC-27)

Collector Number: S3
Rarity: Super Rare
Type: Evolution Creature
Race: Demon Command
Power: 12000
Mana Number: 1
Cost: 8
Civilization: Darkness
Artist: Masaki Hirooka

Card text:

Evolution-put on one of your Demon Commands.
When you put this creature into the battle zone, destroy all creatures except darkness creatures.
[Double Breaker]

2
x
Dorballom, Lord of Demons (DMC-60)

Collector Number: 1
Rarity: Super Rare
Type: Evolution Creature
Race: Demon Command
Power: 13000
Cost: 10
Civilization: Darkness
Artist: Ittoku

Card text:

Evolution: Put on one of your Demon Command.
When you put this creature into the battle zone, destroy all creatures except darkness creatures. Afterwards, both players put all cards in their mana zone into their graveyard except darkness cards.
Triple Breaker

Type: Spell (12 cards)
4
x
Faerie Life (DMX-12)

Collector Number: 111-b
Rarity: Common
Type: Spell
Mana Number: 1
Cost: 2
Civilization: Nature
Artist: Tomofumi Ogasawara

Card text:

Shield trigger (When this spell is put into your hand from your shield zone, you may cast it immediately for no cost.)



* Put the top card of your deck into your mana zone.

1
x
Inferno Sign (DMC-44)

Collector Number: 2
Rarity: Super Rare
Type: Spell
Power: 0
Cost: 5
Civilization: Darkness
Artist: Toshiaki Takayama

Card text:

[Shield trigger] Shield Trigger
Put one of your non-evolution creatures with a cost of 7 or less into your battle zone from your graveyard.

2
x
Pixie Cocoon (DMX-12)

Collector Number: 107-b
Rarity: Common
Type: Spell
Mana Number: 1
Cost: 2
Civilization: Nature
Artist: Sansyu

Card text:

Shield trigger


* Return a creature from your mana zone to your hand.

* After you cast this spell, put it into your mana zone instead of your graveyard.

1
x
Sanctuary of the Mother (DMX-08)

Collector Number: 12
Rarity: Rare
Type: Spell
Mana Number: 1
Cost: 3
Civilization: Nature
Artist: Toshiaki Takayama

Card text:

* Put a non-evolution creature into your mana zone from your battle zone. If you do, put an evolution creature with a cost less than or equal to the number of cards in your mana zone from your mana zone into the battle zone.

4
x
Terror Pit (BS)

Collector Number: 63
Rarity: Rare
Type: Spell
Mana Number: 1
Cost: 6
Civilization: Darkness
Artist: Yusaku Nakaaki

Card text:

Shield trigger (When this spell is put into your hand from your shield zone, you may cast it immediately for no cost.)
Destroy 1 of your opponent's creatures.
"Start all over from your previous life!" -Crystal Lancer
Deck Statistics
Distribution by Civilization
Darkness
27
68 %
Nature
13
33 %

---

Distribution by Cost
10
2
5 %
2
12
30 %
3
1
3 %
4
6
15 %
5
6
15 %
6
6
15 %
7
6
15 %
8
1
3 %

---

Distribution by Power
-
11
28 %
-
1
3 %
1000
6
15 %
12000
1
3 %
13000
2
5 %
4000
6
15 %
5000
5
13 %
6000
6
15 %
9000
2
5 %

---

Distribution by Race
-
12
30 %
Beast Folk/Hunter
3
8 %
Brain Jacker
3
8 %
Demon Command
14
35 %
Demon Command/Alien
2
5 %
Hedrian/Grand Devil
3
8 %
Snow Faerie
3
8 %

---

Distribution by Rarity
Common
15
38 %
Rare
10
25 %
Super Rare
10
25 %
Uncommon
5
13 %

---

Distribution by Type
Creature
23
58 %
Evolution Creature
5
13 %
Spell
12
30 %

---
Rating
Current score for this Deck, based on 2 votes:
4.50
Discussion about this Deck

Add your comments
Author
Message
hahamystyle




Subject: what the boom Posted: August 21, 2012 01:07 pm

---

go send schobu to the nightmare duel master zero youtube

Back to top
monkeyking25


LV10





Member since
October 19, 2011

Subject: ??? Posted: February 13, 2013 04:19 am

---




quote from hahamystyle:

go send schobu to the nightmare duel master zero youtube




What?! I have no idea what you are trying to say to me?

Back to top
monkeyking25


LV10





Member since
October 19, 2011

Subject: shuriken6 Posted: February 13, 2013 04:51 am

---

This a reply to shuriken6 comment on this deck:

First Thank you for commenting and rating this deck. Second you recommended I remove "Crest of Mother" because it is banned, but I checked the Wiki's "Hall of Fame" page which says the card is only limited not banned.
I took your advice and swapped out the card anyway just to be safe, but if the Wiki is wrong please let me know.

Back to top
shuriken6


LV19





Member since
July 1, 2010

Subject: Posted: February 13, 2013 10:09 am

---




quote from monkeyking25:

This a reply to shuriken6 comment on this deck:

First Thank you for commenting and rating this deck. Second you recommended I remove "Crest of Mother" because it is banned, but I checked the Wiki's "Hall of Fame" page which says the card is only limited not banned.
I took your advice and swapped out the card anyway just to be safe, but if the Wiki is wrong please let me know.



Now i had to check to be sure lol. Crest of Mother is on the premium hall of fame, aka Banned. I was gonna suggest Sanctuary of mother just in case you accelerate dorballom into mana, but you did that already

Back to top
monkeyking25


LV10





Member since
October 19, 2011

Subject: Posted: February 13, 2013 01:29 pm

---




quote from shuriken6:




quote from monkeyking25:

This a reply to shuriken6 comment on this deck:

First Thank you for commenting and rating this deck. Second you recommended I remove "Crest of Mother" because it is banned, but I checked the Wiki's "Hall of Fame" page which says the card is only limited not banned.
I took your advice and swapped out the card anyway just to be safe, but if the Wiki is wrong please let me know.



Now i had to check to be sure lol. Crest of Mother is on the premium hall of fame, aka Banned. I was gonna suggest Sanctuary of mother just in case you accelerate dorballom into mana, but you did that already




Thank you for letting me know. I thought that it was only limited because when This sit sends you to the Banned list at the Duel Masters Wiki it said it was only limited.
It doesn't really matter I only had "Crest of Mother" in this deck because some times I mana ramp dorballom into my mana; and as you said "Sanctuary of mother" works just as well.

Back to top
Add your comments