Deck "Great Kid"
extended display
Deck "Great Kid"
Format: OCG - 40 Cards
created by juncombo0
Can I build this deck?
Hi, I hardly makes mono-nature decks. But i really wanted to try this kind of combo so here it is. The Main combo consists of

Codename Thirteen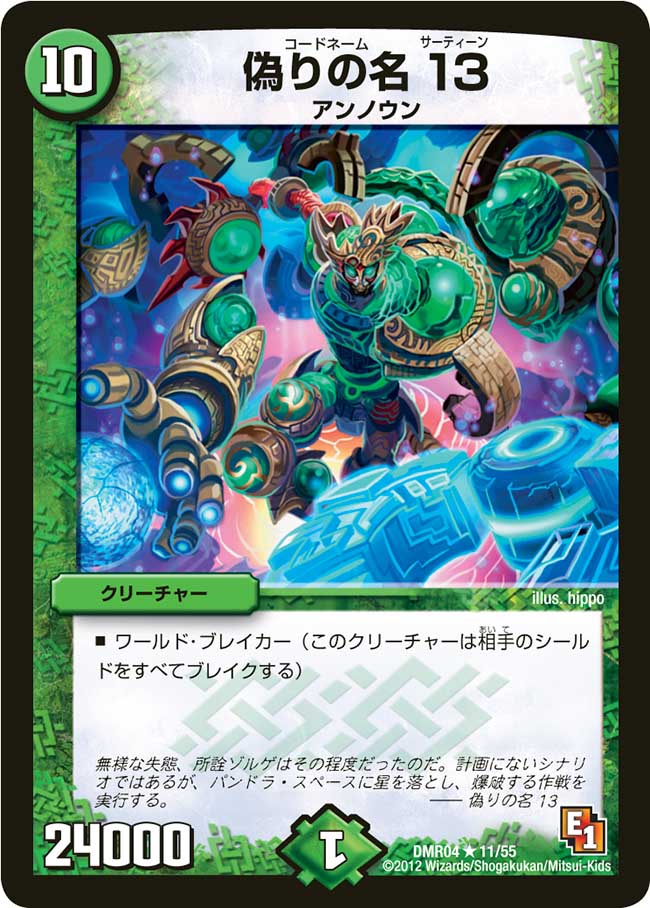 It's a 24000 power World breaker so good enough to be a nightmare for your opponent. Now you will think It needs 10 mana but this deck isn't about summoning him at 10 mana. The second card of the combo

Huckle Kirin Sawyer, Jungle Governor




It's indeed an awesome evolution specially its Shield force ability.Also it plays a key role in getting Codename Thirteen very soon.
The last but against an important card for this combo is

Royal Durian




It can help you get rid of evolutions like Queen Alcadeias or anyother irritating evo.Also its the Final card for our combo Now you have to do combo like this.

1. Use Huckle Kirin and summon it while using Codename Thirteen as a Base.
2. Then Summon Royal Durian and Remove the Huckle Kirin from top of your Codename Thirteen. And you will get a world breaker.

Good point of this combo that at the exact time when you summon Royal Durian the Huckle goes in mana and You will get Thirteen in battle zone and you can also attack in the same turn with Codename Thirteen. It's not a speed attacker i know but the reason that why it don't get summoning sickess is bcoz in this way it was not summoned OR put in battle zone.

To make the combo faster we have some mana accel using Jasmine Mist Faerie , Faerie Life , Iron-Arm Tribe.
If you don't get huckle you can also use other mana evolutions .

For drawing we have cards like Evolution Blue Print as mostly it contains evolution creatures. Also Idaten Kid.

Bishamon, the Great Enigma is also there if you get some early mana accel you can summon it to make all your creatures cost 2 less then you can use the combo in one turn.

That's all for now. I would like to know the views of you guys any suggestion/update is welcomed. If you like the deck Plz rate and Comment.
Deck Statistics
Distribution by Civilization
Nature
40
100 %

---

Distribution by Cost
10
2
5 %
2
10
25 %
3
4
10 %
4
3
8 %
5
12
30 %
6
7
18 %
7
2
5 %

---

Distribution by Power
-
8
20 %
-
2
5 %
1000
14
35 %
24000
2
5 %
3000
2
5 %
5000
6
15 %
7000
3
8 %
9000
3
8 %

---

Distribution by Race
-
10
25 %
Beast Folk/Hunter
11
28 %
Dreammate
4
10 %
Giant/Samurai
5
13 %
Snow Faerie
4
10 %
Unknown
2
5 %
Wild Veggies
4
10 %

---

Distribution by Rarity
Common
13
33 %
Promotional
6
15 %
Rare
12
30 %
Super Rare
5
13 %
Uncommon
4
10 %

---

Distribution by Type
Creature
18
45 %
Evolution Creature
12
30 %
Spell
10
25 %

---
Rating
Current score for this Deck, based on 4 votes:
4.50
Discussion about this Deck

Add your comments
Author
Message
waileukwu




Subject: Posted: September 18, 2012 03:20 am

---

One of those decks that will smash through most other decks by that turn of 5. Of course, being very cool world breaker, it is almost impossible to hold against...however, it, not like the marshal queen end of the century decks, can't win that very same turn unless backed up by other creatures in bz. That can be a problem. Hm, huckle is the real key here, to stop 13 from being blocked.

u can also try hungry elegance? It is a good backup if u don't get 13 into ur mana zone.

Back to top
subhrangshu




Subject: Posted: September 18, 2012 04:54 am

---

if u want to use codename13 with Royal Durian then i'll tell to add 1/2 more. and as wai said marshal queen is also good. mono civi deck is rear now a days :/

Back to top
Add your comments